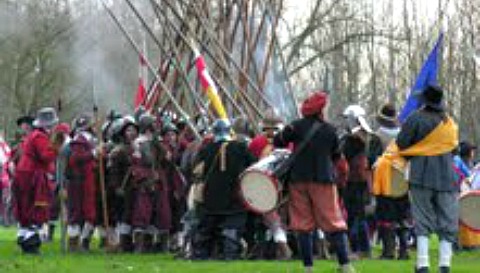 Organisers of the "Battle of Nantwich" Holly Holy Day are confident it will go ahead despite more heavy rain.
The event, which end with the re-enactment of the Roundheads v Cavaliers battle on Mill Island, is set to pull in thousands of visitors to the town tomorrow (January 25).
This year, it falls on the exact  day of the original battle, which was fought on the outskirts of the town 370 years ago.
But organisers have been keeping a close eye on the weather, levels of the River Weaver, and ground conditions after recent heavy rains and floods. More rain is forecast overnight into tomorrow.
Event spokesman Shaun Cafferty said: "The river is high, but we are not expecting too much rain between now and then, and maybe just a shower on the day.
"The Sealed Knot soldiers who fight the battle are used to muddy conditions.
"There should be adequate viewing spaces for spectators, though we may need to restrict some areas on safety grounds.
"It's been quite a while since the battle re-enactment has taken place on the exact calendar date that the original one did, and of course it's also a nice round anniversary.
"It will be quite a poignant moment seeing troops parading out of the main square to go and 'fight', and to think that's just how it was at a similar time of day exactly 370 years ago.
"We are expecting a big turnout of troops from places as far away as Aberdeen and Cornwall for this special anniversary."
But the celebration is more than just a big fight, with dozens of other activities and entertainers on show in the town.
"The parade of soldiers down Welsh Row and into the town square is also a major event," Shaun added.
"Before that there will be a programme of events in the town in the morning, and we have worked hard to provide free entertainment with something for everyone.
"There is a children's fancy dress parade, singing, dancing and theatrics on stage, morrismen and plough witches performing around the town, and the spectacular mounted troopers.
"The use of the Town pillory is also popular, as is the artillery demonstration just before the battle."
There will also be a farmers market, indoor market, musketry demonstration at the museum, civil war exhibits there, and the living history team will be around, with  authentic 17th century music in the parish hall.
There will also be a hog roast on the square and retailers are doing something special to mark the occasion.
From Acton Church in the morning, there will be a guided tour of the battlefield, and book signings by Civil War authors at Nantwich Bookshop.
A full schedule of events can be seen on the website www.hollyholyday.org.uk
Free programmes are available from the museum, Nantwich Civic Hall, Nantwich Bookshop and Martin&Co on Hospital Street.