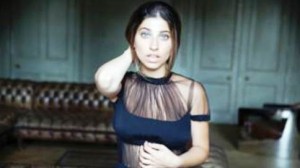 Ariana & The Rose will be performing in Nantwich as support act for The Hoosiers during their 16-date UK tour.
Both bands will be performing live at The Studio venue on Castle Street in Nantwich on May 21.
Ariana & the Rose have performed prolifically across the US, most recently on a 20-date national tour, including legendary stages as the Whiskey A Go Go in LA and the Gramercy Theater in New York, the NYC-based electro pop outfit is excited to begin touring in the UK.
As well as The Hoosiers tour dates, Ariana will be playing Pinkfields 2014 – Huddersfield's Gay Pride event at the end of May.
The tour announcement comes on the heels of the Rose's debut EP release "Head vs Heart", which has been acclaimed by national press including The Guardian and Now Magazine.
Ariana made touring a top priority in 2014.
She is especially excited to perform in Liverpool, home to Sir Paul McCartney, whose most recent video "Queenie Eye" she appeared in.
Recent singles "Heartbeat" followed by "In Your Bed", which climbed into the top 10 in various Music Week charts.
"I'm thrilled to be joining The Hoosiers on tour," said Ariana DiLorenzo, the group's front woman (pictured).
"The UK has become a second home to me in recent years, so I can't wait to travel around, perform and meet new fans out on the road."
For The Hoosiers,  it is their first major headline tour since promoting their top 10 album "The Illusion Of Safety" in 2011.
As well as Nantwich on May 21 from 7.30pm, they will be performing in Bristol, Liverpool, Wakefield, Newcastle Upon Tyne, Edinburgh, Glasgow, York, Preston, Manchester, Birmingham, Norwich, Cardiff, Reading, Islington London, and Brighton.
For more details visit http://arianaandtherose.com/ and follow on Twitter, Facebook, Instagram, and Soundcloud.