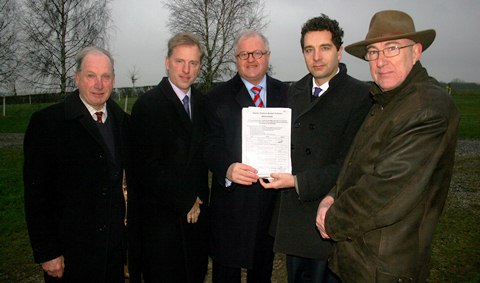 More campaigners have expressed their relief that Muller Developments' appeal for a 1,100-house "Nantwich South" development in Stapeley has been rejected.
Pat Cullen, of campaign group Protect Stapeley, has worked alongside Stapeley Parish councillors and residents to fight Muller's plans for land between Peter de Stapleigh Way, Audlem Road and London Road.
And today's announcement by Secretary of State Eric Pickles to uphold Cheshire East's original refusal of the plan has been welcomed.
Mr Cullen said: "We are very pleased to finally have a decision and very pleased that the decision goes in our favour.
"We are also pleased to read in Para 13 of the Secretary of State's letter that he 'concludes that the appeal scheme fails to represent sustainable development in terms of being the most effective way of improving the economic, social and environmental conditions of the wider area'.
"This is something that we have said all along.
"He also says (Para 17) that the land supply requirements should be finalised through the Local Plan and not through the current 'piecemeal approach' that we see at the moment.
"Again, that is something we have been wanting to happen for over two years now.
"Protect Stapeley is not anti development.
"Protect Stapeley wants to see development that is suitable for our community in appropriate, sustainable locations.
"A working group from Stapeley Parish Council is working on a Neighbourhood Plan to achieve this.
"Finally, this goes to show that a community working together can achieve great results."
A spokesman for Eric Pickles at the Department of Communities and Local Government told Nantwichnews: "Ministers have concluded that it would not be right to agree the proposed site for this development before Cheshire East Council's local plan has been finalised.
"To do so would be to adopt a disjointed approach to increasing housing supply which would not necessarily best serve the economic, social and environmental needs of the wider area."
Cllr Peter Groves, of Nantwich South and Stapeley and also a parish councillor, added: "I think everyone is just so relieved that common sense has prevailed.
"We are really grateful for all the help and support we've had, such as people like Pat Cullen and the parish council.
"We have been waiting for the decision for months, and people have been saying it must be bad news and we'd bury it until after the election. That was never the case.
"This decision takes an awful lot of worry away for many people.
"We can now move forward with the proposed Neighbourhood Plan for Stapeley."
Cllr Michael Jones, Leader of Cheshire East Council, said: "This once again vindicates our approach to the promotion of sustainable development and reinforces the fact that there is no planning 'free for all' whilst we finalise our planning frameworks.
"It shows we are continuing to fight for the interests of Cheshire East's residents – and winning some hard-earned victories.
"People can be assured that we will make every effort to prevent inappropriate development, to preserve our precious heritage and get the right development in the right location."
Cllr Don Stockton, Cabinet member in charge of housing and jobs, said: "I welcome this latest appeal decision, which demonstrates that Cheshire countryside can be protected from inappropriate development."
We have contacted Muller Developments and are awaiting a statement.