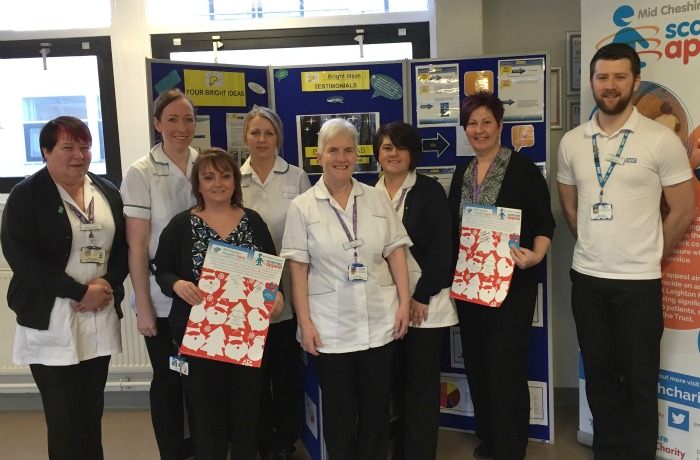 Leighton Hospital staff raised £200 for the MRI Scanner Appeal – thanks to a special Christmas poster!
Employees posted Christmas wishes to their colleagues instead of cards, all in aid of the Mid Cheshire Hospitals Charity MRI Scanner Appeal.
Fundraisers comprised 10 teams and departments in the hospital, who managed to raise an impressive £200.
These included staff from pharmacy, the Patient Experience Team, a number of wards and also teams within the Emergency Care Division.
June Hind came up with the idea of staff making a donation towards the MRI Scanner Appeal instead of sending Christmas cards to colleagues.
She worked closely with charity manager Laura Riddle on the idea of having a Christmas poster displayed for people to write special messages to their colleagues.
Laura said: "I'd really like to thank all of our colleagues who embraced our Christmas Wishes campaign and donated towards our MRI Scanner appeal.
"It all counts and everyone's efforts and generosity are greatly appreciated."
Mid Cheshire Hospitals Charity launched its £1 million MRI Scanner Appeal to provide an additional MRI scanner at Leighton Hospital in March 2014.
The existing scanner operates 8am–8pm, 7 days per week with approximately 30 patients a day being scanned.
(Pic: Left to right – members of pharmacy dept – Sharon Condliffe, Rachel Unsworth, Lisa Holland, Yvonne Harris, Mary Fisher, Hayley Chappell, June Hind, Daniel Dutton)