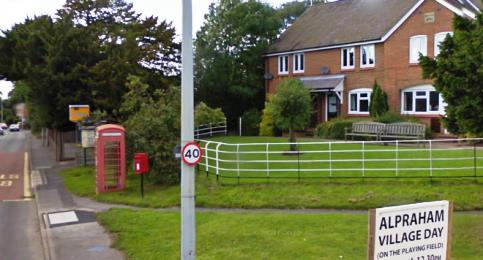 A new village pavilion and recreation area could be built in Alpraham if plans for a 20-home development are passed.
The Wellcome Trust Ltd wants to build on a parcel of land where an existing play is sited, south of the A51, in the village near Nantwich.
However, the proposal has sparked objections as well as support among residents and councillors in the village.
Alpraham Parish Council says it supports the plan based on the "community gain offered to current residents in the area".
Members say the development will provide a new village centre including an additional village green, community orchard, village hall/pavilion with parking and cycle/pedestrian areas away from the A51.
They feel the existing recreation ground and play area are not suitable and "in need of invigoration".
The council also believes it is in line with the future vision of Alpraham's development
outlined in the "Alpraham Village – Plan for Our Future".
However, neighbouring Calveley Parish Council raised concerns over the impact on the village school, and access on to the busy A51.
In a statement, Calveley Parish Council has called for "some section 106 funding to be provided to Calveley Primary to accommodate extra schooling needs this development will generate".
There have been 11 objections to the plans received by Cheshire East Council.
These outline issues such as development on greenfield land, dangerous access, increase in traffic, infrastructure in the area is poor, drainage and flooding issues, loss of outlook,increased noise and light pollution, loss of privacy, impact on wildlife, loss of trees and lack of compliance with the Village Plan.
However, Cheshire East planners have recommended the proposal for approval under certain conditions.
And because Cheshire East cannot demonstrate a five-year supply of deliverable housing sites, there should be a "presumption in favour of sustainable development".
One of the conditions would completion of Section 106 agreement with funding secured towards more school places and affordable housing.
A decision on outline planning permission is due to be made by the Southern Area Planning committee on Wednesday February 3.