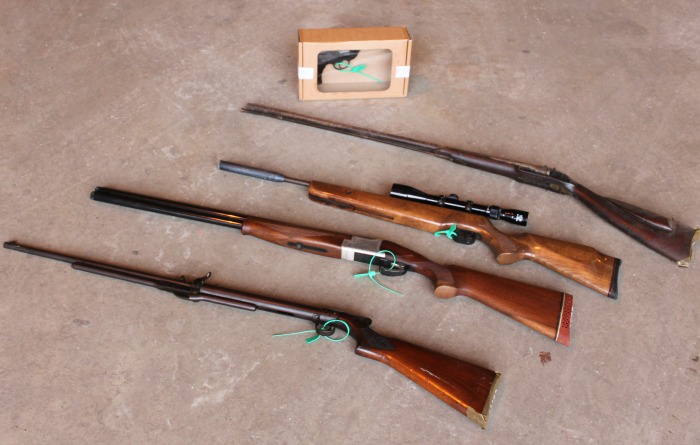 Cheshire Police has launched a firearms "surrender" urging members of the public to hand in guns.
The surrender will be held for two weeks from Monday April 4 to Monday April 18.
It aims to give people a chance to surrender unwanted, unlicensed weapons without the risk of prosecution for illegal possession.
Superintendent Bev Raistrick, of Cheshire Police, said: "Gun crime in Cheshire is relatively low and that's the way we want to keep it.
"This surrender provides anyone who believes they may have an illegal weapon in their possession to hand them in to the police without the threat of prosecution.
"During previous amnesties we have found the majority of the weapons handed in by the public were wartime items that people had inherited from relatives who have passed away.
"Often people are unsure what to do with them so they simply end up being put up in the loft or buried under all of the tools in sheds and outbuildings."
During the surrender period, people handing in weapons can remain anonymous.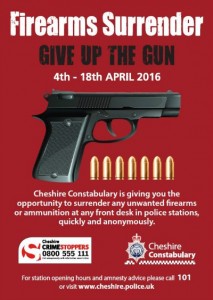 It is part of a regional firearms surrender which aims to reduce the number of illegal weapons across the North West.
During the surrender, members of the public will be able to hand in weapons and ammunition, including legal weapons that are no longer required, at the following police stations:
Crewe Police Centre, Civic Centre, Crewe
Chester Police Station, Blacon Road, Chester
Macclesfield Police Station, Brunswick Street, Macclesfield
Northwich Police Station, Chesterway, Northwich
Warrington Police Station, Arpley Street, Warrington
Widnes Police Station, Gerrard Street, Widnes
Supt Raistrick added: "By taking time to have a sort through your possessions you could help to make Cheshire an even safer county for future generations.
"By removing just one weapon from the streets you can help ensure that it doesn't get into the wrong hands. Any items that we do receive will be deactivated before being destroyed."
If you know of people involved in illegal firearms call Cheshire Police on 101 or Crimestoppers on 0800 555 111.
Crimestoppers is offering a reward up to £1000 for information that lead to the recovery of a firearm and an arrest and conviction.
(Pic: weapons handed in during last police amnesty)