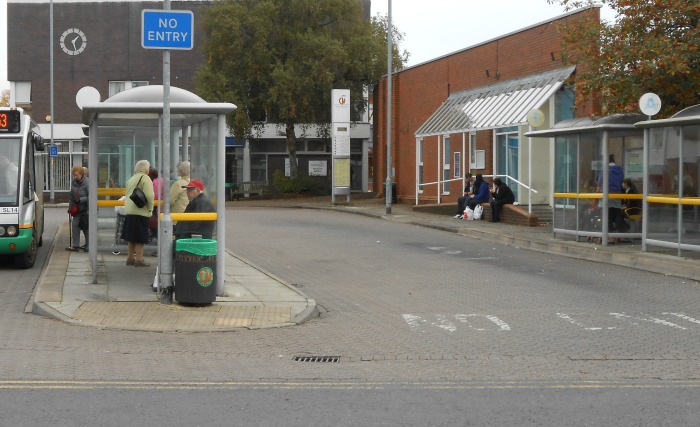 A Nantwich pensioner has described the moment she thought she was going to die when a bus crashed into the glass shelter she was sitting in.
Terrified Lilian Shard, 78, was waiting at Nantwich bus station to go home to Faddiley when a double decker ploughed into the shelter.
It shattered the large panes of glass in the shelter, showering her with tiny sharp pieces.
She suffered cuts down her arms, hands and fingers, and told Nantwichnews today she has hardly slept since the incident.
And Lilian and her family have hit out at the driver and his employer for not even saying "sorry" or contacting her to see how she is.
Lilian said: "I was just sitting there and saw the GHA bus come around the corner.
"I could see it wouldn't get where it wanted to go, the next thing I heard this almighty smash as it hit the corner of the shelter.
"Another man in the shelter managed to get out, but I'm not as active these days and couldn't move in time.
"I just thought 'look down and cover your face' and I'm glad I did. If I'd looked up, I would have been blinded by the shattered glass.
"But I could have been killed."
Widow Lilian was treated by paramedics at the scene after the incident at around 1pm last Thursday (May 12).
She then spent five hours at Leighton Hospital receiving further treatment as doctors removed glass shards from her fingers and hands.
Now back at home, she described how flashbacks to the incident have stopped her from sleeping.
"The bus driver never said a word. He just got out of the bus, never said sorry or anything," added Lilian, who moved to Faddiley 20 years ago after marrying her late husband Edwin.
"I could have sworn at him!
"And I've not had any contact from GHA either, nothing, not even a call to see how I am doing.
"It could have been far worse, that's what I have to think. I could have been killed.
"I've not slept well at all since. I keep waking up, I get flashbacks, and think about what happened all the time."
Her daughter Jane added: "My mother suffered cuts to her arms, hands, fingers swelled up, and she had to have x-rays.
"She was in shock, but if the shelter had completely collapsed and fallen it would have been very serious.
"Mum said she made eye contact with the driver who didn't even say sorry!"
We have contacted GHA twice for a comment. So far, they have declined to comment.