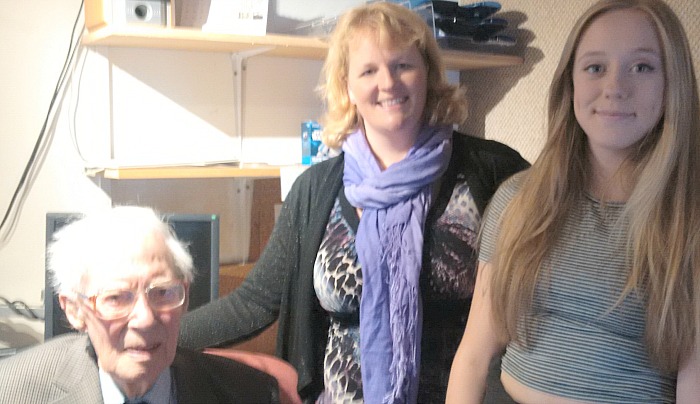 A 103-year-old author met a Nantwich student to talk about his amazing life story.
Allan Whatley brought his wisdom and spirit to Redshift Radio in Nantwich where he met Brine Leas work experience student Annie-Mae Walker.
Allan sat and chatted with Annie-Mae after being introduced to Redshift by his carer Clair Beadle, from Home Instead.
Because Allan was alive during both wars, he shared his memories of after the war and how life has changed throughout time.
He moved to Nantwich in 1987 when he was in his late 70s and created a picture book of all the historical places in Nantwich called, "Nantwich In Old Picture Postcards".
He wrote another short book, called "Whisky the Left Handed Dog".
He describes it as a children's book and he hopes to illustrate it soon.
Liz Southall, owner of Redshift, wants to launch a project called "Back to the Future" which helps integrate two ends of the age spectrum as an important historical archiving activity and fun for both parties.
Liz said: "We are currently seeking funding to deliver a year-long project called 'Back To The Future' which will help to build and nurture relationships between under 20s and over 70 year olds."
Clare, from Home Instead, said: "It was great to see work experience student from Brine Leas Annie-Mae and Mr Whatley chat and joke together – despite coming from very different eras."
Annie-Mae added: "Meeting with Allan was incredibly inspirational.
"He doesn't let his age define what he can and can't do.
"It was a real privilege to meet him and find out about his life."
An AudioCast with Allan will soon be available to listen to via the RedShift SoundCloud Account. https://soundcloud.com/redshift-audiocasts