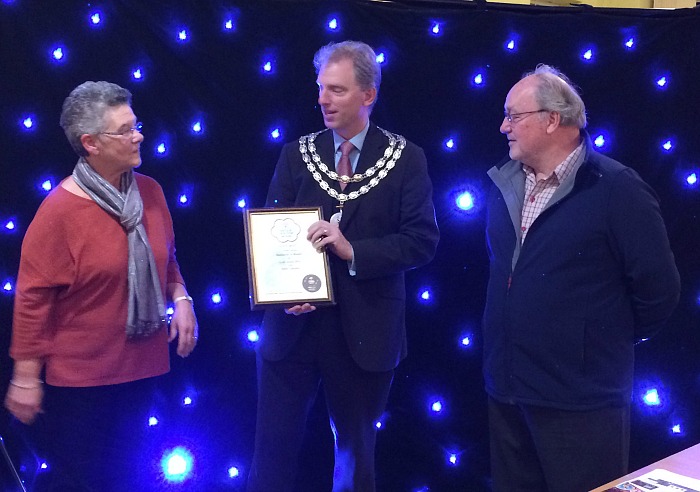 Volunteers who run Nantwich in Bloom group have been honoured for helping the town scoop another Gold award.
North West judges of the prestigious Britain in Bloom competition were once again bowled over by Nantwich's floral look.
And it earned Nantwich a Gold award, with the certificate presented to volunteers at the town council meeting on Thursday (December 15).
Mark Betteley and Sue Hughes, who help run Nantwich in Bloom group, attended to receive the award from Nantwich Mayor Cllr Andrew Martin (pictured).
Town council clerk Ian Hope said: "We make an important contribution to the Nantwich in Bloom group.
"It relies heavily on volunteers who plant, weed and tidy all the flower beds, baskets and planters, and generally make the town look really nice."
In awarding Gold in the 'town' category, judges said: "Nantwich is a really good example of a Bloom entry and there is colour fairly much throughout the town.
"There is a good mix of perennial and bedding in the town and creates a really pleasant atmosphere for shoppers and visitors."
They also praised the group or its community participation, called it "second to none" thanks to initiatives like Nantwich Partnership and Nantwich Litter Group, and involvement of local schools.
"It is very pleasing to visit towns like Nantwich who take great pride in the environment and work hard to maintain and wherever possible improve it."