Villagers near Nantwich have been left scratching their heads over a toilet left at a road junction – dressed in mistletoe, tinsel and Christmas lights!
The loo, dubbed the 'Swanley crapper' by locals, turned up at the junction of Swanley Lane and Tally Ho Lane, between Burland and Acton.
At first, villagers were flushed with anger, assuming it was the work of fly-tippers when it first appeared on Monday (December 19).
But some have clearly taken it to their hearts – and turned it into a Christmas feature, adorning it with mistletoe, tinsel and fairy lights.
Liz Southall, who lives nearby, said: "It appeared on Monday as an empty toilet and I thought it was a shame someone had been fly tipping in our street!
"The next day the tinsel arrived – and then yesterday (December 21) the mistletoe and fairy lights.
"If it is there after Christmas I will stick a few daffodils and snowdrops in…. and change it every season!"
Pictures of the toilet have been appearing on social media, turning it into a 'famous' structure locally.
One resident said: "This toilet is becoming quite famous!
"I've seen it on other people's posts as well I'm starting to feel like I'm missing out and should go see it!"
One Christmas Scrooge has given the toilet the bum's rush – and kicked it over last night (December 21), pictured below.
So mystery still surrounds how the loo arrived there in the first place – and who decorated it!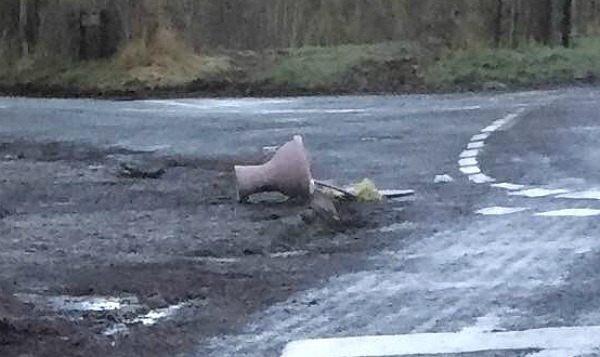 (pics courtesy of Liz Southall)