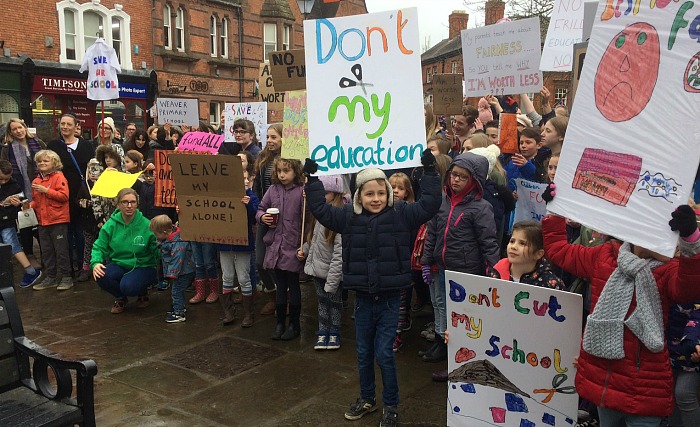 Hundreds of families across Cheshire East gathered in Nantwich today to protest at school cuts under the Government's planned National Funding Formula.
Teachers and parents across Nantwich and Crewe fear the new NFF will see Cheshire East worse off, facing a 4.5% cut in budgets over the next two years.
Schools are already facing an 8% cut in real terms, and many say they will have to axe teaching staff, increase class sizes, and cut school trips and non-mandatory subjects.
Nantwich parent Laura Smith, a former Brine Leas student, has spearheaded today's protest.
She organised the gathering and invited a number of speakers to address the crowd, including teachers, councillors, governors and parents.
Brine Leas head Andrew Cliffe said: "It's important we show MPs and make a noise, to make a difference.
"We're already facing an 8% cut in real terms. My school will be £150,000 worse off.
"If this goes through, we will face a very different sort of education in Cheshire East.
"Are our children really worth less than children in other authorities?
"We will do out best, of course, to deliver the education we can. But once the NFF in in place, it will not change and could be with us for the next 20 years."
Gill Price, headteacher at Weaver Primary School, also spoke at the protest.
She said: "We're facing an £88,000 cut in our budget under this new plan – that's two class teachers, 25% of our teaching workforce.
"How can we teach seven classes with two teachers down?
"If the pupil unit stays the same, we can continue to run the schools. There won't be huge amount of cash, we've cut back as much as we can.
"But there will be cuts of some form or another under this plan."
Nantwich Town Cllr Arthur Moran, who is also a governor at Millfields Primary and Brine Leas, urged people to lobby their MPs.
"There was a political slogan a few years ago which won an election – Education, Education, Education," he told the crowd.
"I think ours needs to be Children, Children, Children – because these are our future, and we need to invest in them.
"This is a wonderful turn out, we need to keep up the pressure on see what we can do."
Campaign organiser Laura Smith, who runs a private tuition company One-to-One Learning UK, said: "We can really show the powers that be what we think about this awful National Funding Formula.
"Don't think that your voice won't matter – in this instance it really will.
"If this goes through and the funding cuts happen we could be looking at a very bleak outlook for Cheshire East.
"Lots of our town's facilities rely on money from schools.
"Without that input they could cease to exist.
"Currently Cheshire East is in the top 5% for educational performance. This will not remain the same if this goes ahead."
MP Mr Timpson, in a letter to Andrew Cliffe, said: "I would urge all local schools to respond to the consultation.
"All issues and concerns raised through the consultation will inform the Government's final decision on the detail of the NFF.
"I have contacted Schools Minister Nick Gibb to represent to him directly the concerns that have been brought to me."
Mr Gibb replied, saying: "I appreciate the impact of the proposed schools National Funding Formula on Cheshire East will be disappointing.
"Whilst Cheshire East would be at the lower end of the spectrum of funding, it would not be the lowest funded in the country.
"Under our proposed formula, Cheshire East would not lose any high needs funding, as a result of the proposed funding floor."
The public consultation runs until March 22, which can be completed here.
Parents can sign a petition, https://petition.parliament.uk/petitions/182705
You can also write direct to MP Edward Timpson and Schools Minister Nick Gibb.