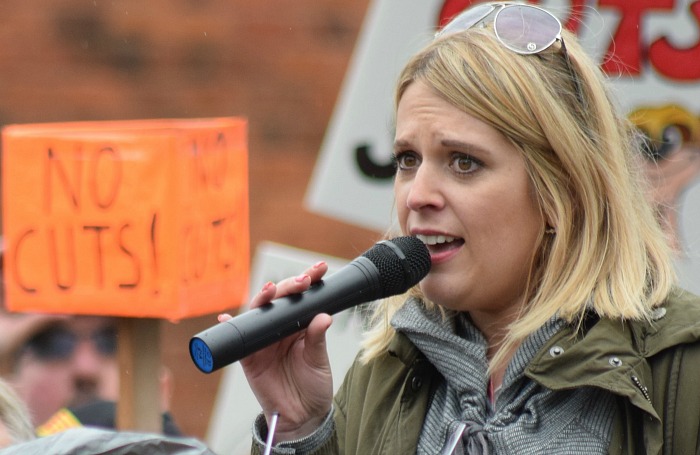 Stapeley businesswoman Laura Smith has been selected as Labour parliamentary candidate to fight for the Crewe and Nantwich seat in June.
The 32-year-old was selected by the Labour group ahead of the party's 2015 candidate Adrian Heald.
Mother-of-two Ms Smith has spearheaded the vocal campaign against Government plans for a National Funding Formula, which could see Cheshire East schools worse off.
The former Brine Leas pupil and school teacher runs the tuition business One-to-One Learning UK in Nantwich by day.
But she was so incensed by the NFF proposals that she rallied hundreds of parents to stage two large public protests.
More than 400 attended a rally in Nantwich town square in February.
And a few weeks later, she led around 1,000 people on a march through Sandbach.
Recently, she joined Brine Leas headteacher Andrew Cliffe on a visit to London to lobby MPs over the proposed NFF.
She said: "What Crewe & Nantwich needs is an elected-representative who lives in the constituency and understands the concerns and priorities of ordinary working families.
"As a teacher and a parent, I have seen first-hand how this Government is letting down our children and our community.
"The people that make our community what it is deserve a strong and independent voice.
"I believe I am that voice and I am determined to win for Crewe & Nantwich on June 8."
Councillor Suzanne Brookfield, local Party Secretary, said: "Crewe & Nantwich Labour Party is excited to have a strong, local candidate that will be Crewe & Nantwich's voice in Westminster.
"Laura will be delivering a message of change for local people and she has been inspired to take up politics purely because she cares about the people who live in our community.
"She will not be a career politician and will relate to local people and respond to the issues that matter to them."
Ms Smith, who also studied at South Cheshire College, will stand against Conservative candidate Edward Timpson and UKIP's Michael Stanley on June 8.
(pic above courtesy of Jonathan White)