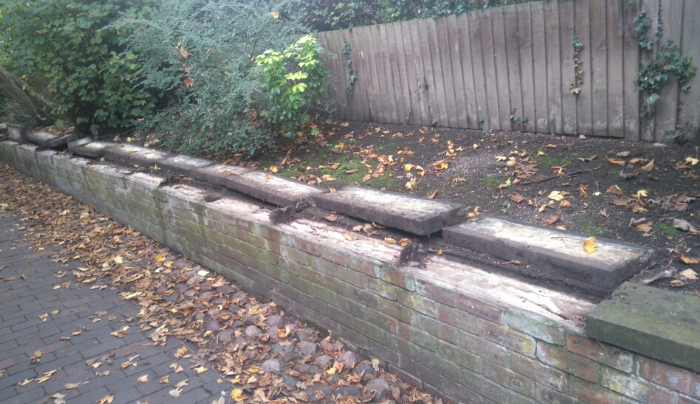 Residents have hit out after historic Monks Lane in Nantwich was damaged in an apparent vandal attack.
Coping stones were found scattered on the floor and pushed away from the wall edge along the ancient walkway close to the town centre.
The lane, which was a public footpath for centuries, lies in the town's conservation area and is flanked by listed buildings.
But it is feared a section of its wall was targeted in the week – and not for the first time.
Jeff Stubbs, of Nantwich Civic Society, said: "This was the same damage as happened last year!
"What I would not like to see is the council using something else as a coping.
"Monks Lane is a unique old pathway full of historic significance which needs careful looking after for future generations.
"The low wall on the left as you walk in to the centre was vandalised last year, too.
"These copings were lifted up and left around – for fun?!
"The council put them back I think, especially as there was a safety issue from the loose heavy stones on a public footpath."
One resident Carrie Smith said: "This is disgusting.
"Vandals dislodged most of the tiles down Monks lane in Nantwich. Mindless."
And another, who works close by but declined to be named, said: "Some bright sparks have vandalised a considerable length of wall in Monks Lane and left the coping stones lying on the ground.
"I just cannot understand the mentality of these people.
"There does seem to be a fair bit of anti-social behaviour in that area – vandalism and arson at the chapel in recent months for example.
"I reported the damage to the wall to the council, and then spoke to the "crime recording" department at Cheshire Police.
"They asked if it was my wall, and as it isn't my property, they said that as a third party I couldn't report it.
"I mean, I wasn't expecting a crime number or anything, I was just being a "good citizen" and reporting an incidence of vandalism!"
Nantwich Police said they are looking into the incident.
There are currently no CCTV cameras situated along Monks Lane. The nearest one is by the car park of the Bowling Green pub.