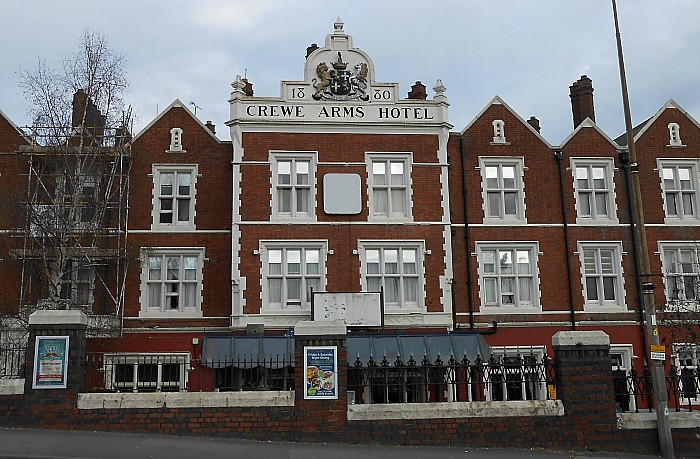 The company which runs Crewe Arms Hotel has been fined £80,000 for breaching fire safety regulations.
Hospitality First Two Ltd, which runs the venue on Nantwich Road, pleaded guilty at Liverpool Magistrates Court to five breaches of the Regulatory Reform (Fire Safety) Order 2005.
Cheshire Fire and Rescue Service (CFRS) took the company to court after an inspection in December 2015.
The service issued an immediate prohibition notice which shut the hotel down for two and a half months while they carried out emergency works.
Prosecuting, Warren Spencer told the court that CFRS inspectors found a "number of failures" which would have put "guest and employees at risk over a substantial period of time".
Inspectors found there were not enough smoke detectors in the building, with some rooms without any, and some covered over by building work.
Maintenance of the alarm system was poor with some areas of the system not working.
There was inadequate separation of the building between floors – including holes in the floors – which meant fire could spread easily.
Fire escape routes were inadequate and the fire risk assessment the company had completed was not suitable or sufficient.
Defending, Elizabeth Dudley-Jones told the court the hotel had carried out "significant works" after receiving the prohibition notice and had now reopened.
District Judge Andrew Shaw fined the company £80,000 and also ordered them to pay a victim surcharge of £120 and prosecution costs of £10,000.
He said: "There was an obvious risk of injury to life and limb.
"Serious identified flaws were either ignored or un-actioned over a period of time.
"This is a systemic failure to comply with the relevant legislation."
Cheshire Deputy Chief Fire Officer Mark Cashin said: "We are pleased the judge has agreed with our assessment that there were serious failures in the fire safety of the building which had put guests and staff at serious risk.
"We hope this court case will put other companies on notice that we will take action against them if they are found to be below the standards the law requires."
Any businesses needing information or help with fire safety, contact Cheshire Fire and Rescue Service protection team on 01606 868700 or visit www.cheshirefire.gov.uk
(pic by Rept0n1x under creative commons licence)