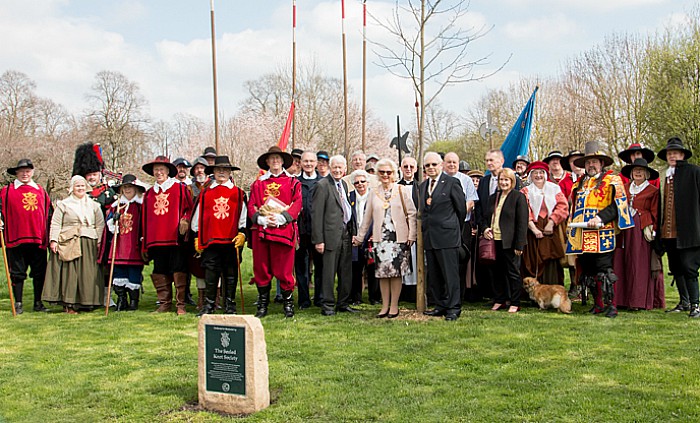 The Sealed Knot Society has unveiled a plaque, stone and tree to Nantwich to mark their long association with the town.
The plaque, stone and mature tulip tree acknowledged The Sealed Knot's 46 years of involvement in the annual Holly Holy Day events, commemorating the 1643 Battle of Nantwich.
Mayor of Nantwich Cllr Penny Butterill received them during a formal handover by Chairman of The Sealed Knot Society Simon Wright at Volunteer Fields off Beam Street yesterday (April 14).
Cllr Butterill gave a short speech thanking the Society, and Rev Stephen Snelling also spoke a few words about the association.
The plaque reads:
"Dedicated on 14th April 2018, this tree recognises forty six years of the unique relationship between the people of Nantwich and The Sealed Knot Society in its fiftieth year. On 25th January 1644, one of the decisive battles of the English Civil War was fought to relieve the Siege of Nantwich. This date became known as Holly Holy Day and is annually remembered by the Townsfolk of Nantwich and The Sealed Knot".
Parliament was represented by the Manchester Regiment and the Royalists were represented by the King's Guard. The Yeoman of the Knot ceremonial unit represented both Parliament and Royalist sides at the ceremony.
The Sealed Knot Society members also attended a reception and ceremony at Nantwich Civic Hall.
(pictures courtesy of Nantwich Events Photography)