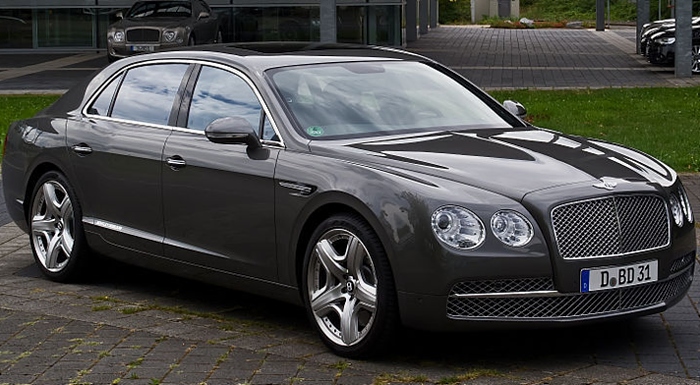 A campaign group has hit out at Cheshire East Council for spending £55,000 in the past three years to lease a Bentley for the mayor, writes Stephen Topping.
A Freedom of Information request sent by TaxPayers' Alliance has revealed that between April 2015 and March 2018, CEC spent a total of £67,980.50 on a Bentley Flying Spur – including its £55,000 lease, plus fuel and maintenance.
That figure is the highest amount spent on a mayoral car by any north west council in that time, with Wyre Borough Council, in Lancashire, having the next-highest bill at £53,515 over the three years.
John O'Connell, chief executive of the TaxPayers' Alliance, said: "Taxpayers are tired of hearing local authorities say they have no money left when there are still instances of excessive spending.
"Some travel will of course be necessary to conduct duties but families who struggle to pay their council tax bill will roll their eyes at the thought of their hard-earned money being spent on Bentleys and Jaguars for politicians to attend functions.
"Forty per cent of councils didn't lease or buy cars, so all other local authorities should follow that example and encourage civic leaders to use cheaper forms of transport.
"Every penny wasted on excessive travel expenses is money that could be going towards social care or bin collections."
The TaxPayers' Alliance sent FOI requests to councils across the UK, and found CEC was one of just three to lease a Bentley Flying Spur – along with neighbouring Cheshire West and Chester Council, and the Royal Borough of Kensington and Chelsea, in London.
But CEC has defended its lease of the Crewe-built car, which it says attracts plenty of interest when the mayor attends civic duties across the borough.
"The hire cost and running costs of the mayoral car are modest compared to the enormous prestige the Bentley marque brings to the borough," a CEC spokesman said.
"The borough is fortunate to have such a luxury car manufacturer based here and the council is proud that Bentley motor cars are built in Crewe where more than 4,000 skilled craftsmen and women are employed."