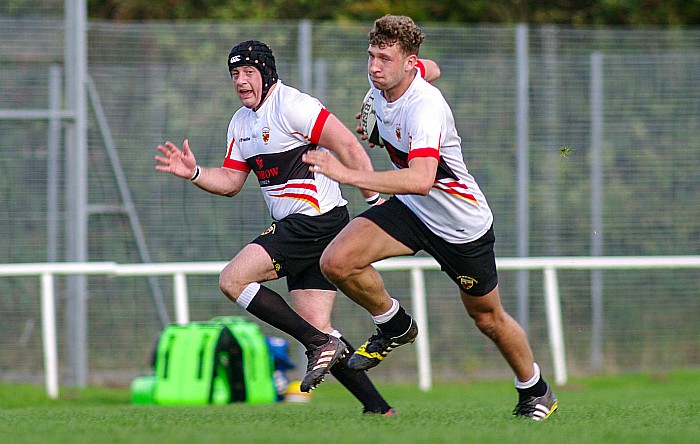 Crewe and Nantwich RUFC 1sts lost out 33-10 away at Walsall in their opening game in the Midlands 2 West (North) league.
And coach John Farr described the result as "disappointing" as his side were beaten at the breakdown.
It was the first league fixture for Walsall's new artificial pitch, and Crewe managed to take the lead early through Elliot Meredith.
He finished off some sustained Crewe pressure, crashing over on 12 minutes for the try.
Walsall kicked a penalty moments later after a breakdown infringement before Crewe threatened the Walsall line after an impressive line-break through Josh McShane.
Unfortunately, a knock-on from a scoring position stalled the attack.
Walsall scrambled well, taking the score to 6-5 and despite some promising play from Crewe through Jim Creighton and Joe Telfer they were unable to convert the field position into points.
The first half finished with Walsall narrowly leading 9-5.
And it was the hosts who found the extra gear after the break, looking threatening in the key exchanges, and ultimately coming out better at the breakdown and set pieces.
Crewe scored a well-worked try through Eli Woodward to narrow the deficit to 23-10.
But Walsall took advantage of a yellow card for a high tackle by Matt Wright and a serious injury to Joe Telfer to finish the game stronger.
Crewe and Nantwich coach John Farr said: "I'm disappointed with the result and felt if we had converted a couple of scoring chances in the first half it would have put a bit more pressure on Walsall to win the game.
"After Joe's injury it was hard for the team to get back into the game, and at this level we really can't afford to come off second-best at the breakdown.
"We're only two games in so there is plenty of time for us to improve."
Crewe and Nantwich 1sts return to action when they host Camp Hill at Crewe Vagrants on September 15, 3pm kick-off.
Meanwhile, Crewe and Nantwch 2nds secured a 31-24 victory at home to Northwich in a tight battle.
Winger Elliot Waller scored in the corner for 5-0, but Northwich scrum half's quick tap for a converted try made it 5-7.
It was 12-12 at the break as the sides exchanged tries, before centre Thomas Roberts crashed over for a try and 19-12.
Northwich second row combined to make it 19-17, but Crewe bounced back with good line-out ball, a miss move in the centre allowing fullback Toby Ward to streak in for 24-17.
Later, reat link play allowed centre Reuben Davies to score another good try for 31-17.
Northwich had the final score their wing forward going over from a driving maul.
The 2nds are away at Helsby 1sts this Saturday, September 15.
(Library pic courtesy of James Brewerton)