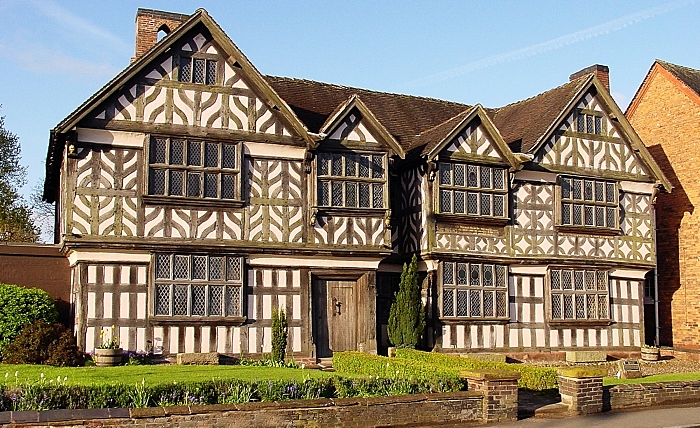 The sale of Nantwich's oldest building, Churche's Mansion, has gone through amid plans to turn into a specialist fish restaurant.
We revealed last week the plan by aspiring restaurateurs Sophia and Kyriakos Haelis for the landmark building on Hospital Street.
The historic Grade I listed Tudor property, which is over 400 years old, had been on the market for a number of years, and sold with an asking price of £995,000.
Previous owner Adams Antiques, a specialist dealer of 18th and 19th century antique furniture, had occupied the Mansion since 2001 and decided to sell to focus on their online sales.
New owners, Sophia and Kyriakos Haelis said they bought the building to pursue their dream of opening a restaurant on the site.
Sophia said: "We fell in love with Churche's Mansion from the first time that we viewed it.
"We have submitted planning for change of use and for some alterations to the building to make it more functional as a modern-day restaurant.
"We love the charm and character of the mansion and will of course maintain this as much as we can, the property is in remarkable condition and we will only add 'mod cons' where they are necessary.
"We hope to be open and trading early next year, and that the new restaurant will enable Churche's Mansion to become a vibrant part of Nantwich once more!"
Ashley Cobban, Business Agent at Christie & Co, who handled the sale, added: "It has been fantastic to facilitate the sale of this historic property to two enthusiastic restaurateurs.
"As a result of the excellent location, the extensive adjoining buildings, and the wealth of original features, Churche's Mansion has understandably drawn a lot of interest from potential purchasers, resulting in multiple offers.
"We look forward to seeing Sophia and Kyriakos' new restaurant thrive."
It is one of the few buildings to survive the great fire of Nantwich in 1583, and is one of the most complete half-timbered buildings in Cheshire, with many of its original features intact.
It was previously owned by the Churche family for 350 years before being purchased in 1930 and operated as a tea room and restaurant until 1986.
Churche's Mansion attracted famous visitors during its period as a restaurant, including US President Ronald Regan and TV chef Delia Smith.