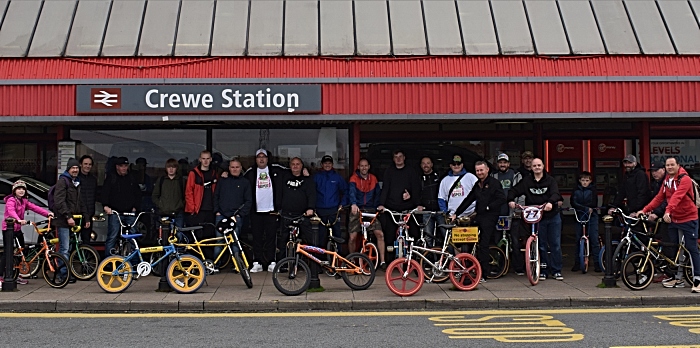 More than 40 old school BMX bike fans met up at Crewe railway station for a social ride in and around the town, writes Jonathan White.
They rode from the station to Ye Olde Manor on Nantwich Road for breakfast, then onto the Wonderful Wistaston path to The Rising Sun Inn on Middlewich Road.
Participants then followed the Crewe-Nantwich Greenway cycleway to the Platform 1 skatepark and the Shanaze Reade BMX track at Tipkinder Park, where they showed off their BMX skills.
The ride finished at The Hop Hole on Wistaston Road in Crewe.
They rode racing and freestyle vintage BMX bikes as well as modern BMX bikes.
BMX brands represented included Aero Reflex, BH California, Falcon Pro, GT, Haro, Hutch, Kuwahara, Mongoose, Piranha, Raleigh, SE Racing, Superfox, Torker and Yamaha.
Size of bikes ranged from the standard 20-inch wheel bike to a 26-inch wheel cruiser.
The star bike was ridden and is owned by Ian Hollands, from Milton Keynes, with his Yamaha 'Moto-Bike' racing bike.
The bike, which Ian imported from New Zealand, was built circa 1975 and has a front and rear suspension.
It was recently signed at a BMX event by BMX legends Bob Haro, Mike Buff, Matt Hoffman, Mike Dominguez, and Bob Morales.
There was also a commemorative sticker featuring the group's new logo designed especially in time for the event by Mark Daniels of the 'Crewe and Cheshire old school BMX' group.
Each rider received a sticker as a memento.
The event was open to all and bikers ranged in age from children to adults.
There were participants from Crewe along with visitors from further afield including Reading, Milton Keynes, Salford and Whitchurch.
The event was organised by John Collins from Crewe, who was riding a Raleigh Super Tuff Burner Mark 2.
John also organises the group's popular annual 'Chesh-Air' event in May that is open to riders from all over the UK, which has attracted people from as far afield as Scotland.
John said: "It was great to have a social get-together of so many old skool BMX enthusiasts and to see such a wide range of BMX bikes.
"I hope everyone enjoyed the ride and chat.
"We are always looking for new members, so please get in touch and join us on our next ride."
For further information relating to the 'Crewe and Cheshire old school BMX' group, search Crewe and Cheshire old school BMX on Facebook.
Old school BMX rides take place throughout the UK and around the world.
For further information on the UK old school BMX scene visit http://www.radbmx.co.uk/