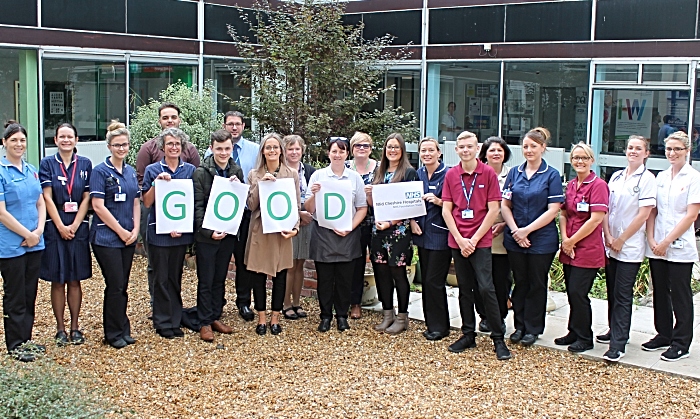 Mid Cheshire Hospitals NHS Foundation Trust has been rated "Good" by the Care Quality Commission (CQC) following inspections of its services and leadership.
It's the second consecutive time the Trust, which manages Leighton Hospital, has received the rating.
The latest CQC report highlights a number of areas of "outstanding" practice.
These include the new "frailty service" to reduce the number of patients admitted to Leighton Hospital, and the Advanced Nurse Practitioner Rapid Response team, which sees acutely ill patients being supported in their own home.
But there are also areas identified as "requiring improvement".
This included a "failure to follow infection prevention and control procedures on a number of occasions".
It also highlighted "the lack of storage space in medical care services" which led to some equipment "not always stored safely".
Tracy Bullock, chief executive of Mid Cheshire Hospitals, said: "We're delighted to have maintained our 'Good' CQC rating.
"This positive result is not only good news for the Trust and its staff, but for the local community.
"It offers assurance that the services we provide are delivered in fit for purpose environments by caring and committed staff.
"Whilst the report contains a great number of positives, there is still room for improvement and our staff are already hard at work addressing the areas that were identified in the report as 'Requires Improvement'.
"Some of these areas have already seen vast improvements since the inspection and we will continue to make improvements in order to provide the best care possible for the population we serve."
The CQC, the independent regulator of health and social care in England, completed its inspections in March and April this year.
NHS Improvement, responsible for overseeing foundation trusts and NHS trusts, also completed a 'Use of Resources' inspection in March.
Urgent and emergency care at Leighton Hospital and Victoria Infirmary, as well as medical care and maternity care at Leighton Hospital, were looked at as part of the unannounced inspection.
Community healthcare services provided through Central Cheshire Integrated Care Partnership (CCICP) were also inspected.
The Trust's rating was also based on a 'well-led' inspection, which looked at leadership in the organisation and consisted of interviews and focus groups.
England's Chief Inspector of Hospitals, Professor Ted Baker, said: "The trust was committed to improving services by learning from when things go well and when they go wrong, promoting training, research and innovation.
"The executive group were cohesive and remarkably consistent in its response to questions.
"I was encouraged to see that directors gave account of their personal walkabout to monitor the quality of care."
A copy of Mid Cheshire Hospitals report can be found by visiting www.cqc.org.uk/provider/RBT