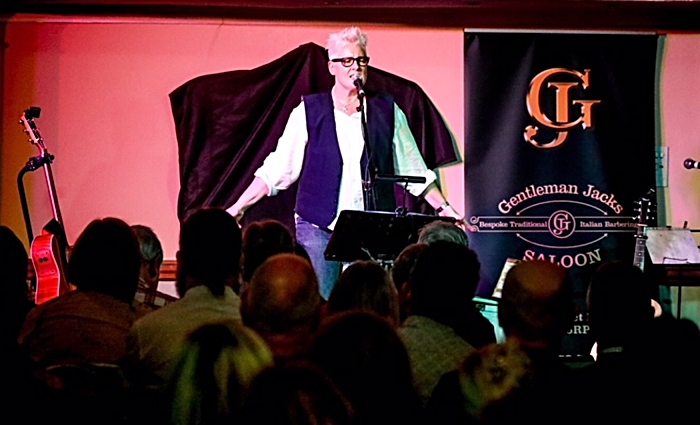 The 11th Nantwich Words and Music Festival was launched to a packed room of performers, volunteers and guests at Nantwich Civic Hall last night.
Guests were treated to singing by the talented Weaver Primary youngsters with organiser Nigel Stonier on the guitar.
After the launch, fans gathered to watch Scottish performer Horse McDonald and support act Annie Dressner in the Crown Hotel Ballroom.
Mayor of Nantwich Cllr David Marren told the audience: "We are fortunate that the words and music festival has been planned to be a part of the town, in pubs, coffee houses, the theatre, town square and the Civic Hall.
"People travel from all over the UK and across Europe and further. This adds very positively to the economic wealth of the whole of the town."
Festival mastermind Nigel Stonier added: "With the words and music festival you will see more than 3,000 people enjoying events across the town – world class performances of music and poetry.
"I think this year's bill is more diverse than ever.
"It's an eventful climate for music and the arts in general. Many good festivals have closed their doors for the last time.
"We've always said we are in it for the long haul, that we are growing slowly and organically.
"The festival has changed a lot over time but the core values remain the same, to promote wonderful live original music ranging from household names to icons to brand new artists."
Here is the full list of performers for the rest of the week:
TUESDAY OCTOBER 9
Steve Hogarth 7pm St Mary's Church
WEDNESDAY OCTOBER 10
Cara Dillon 7:30pm Crown Hotel Ballroom
THURSDAY OCTOBER 11
Los Pacaminos Feat. Paul Young 7:30pm Nantwich Civic Hall
FRIDAY OCTOBER 12
Thea Gilmore 7:30pm Nantwich Civic Hall
SATURDAY OCTOBER 13
Festival On The Square 11am Nantwich Town Square, featuring The Aviators, The Throes, Callum Wright and Nantwich Young Voices
Matt Owens 12pm in Bloom
Les Barker 2pm in Nantwich Players Theatre
British Sea Power 7:30pm Nantwich Civic Hall
SUNDAY OCTOBER 14
Judie Tzuke 2pm Crown Hotel Ballroom
Grace Savage beatbox workshop 2pm Nantwich Players Theatre
Enzo Acoustic Zone, 2pm Enzo, featuring Oliver Lomax, Jonathan Tarplee, Grace Savage & Nigel Stonier
CC Smugglers 7.30pm Crown Hotel Ballroom
Tickets are available from The Civic Hall, Gentlemen Jacks, The Hearing Centre and Bloom in Nantwich or online at www.wordsandmusicfestival.com