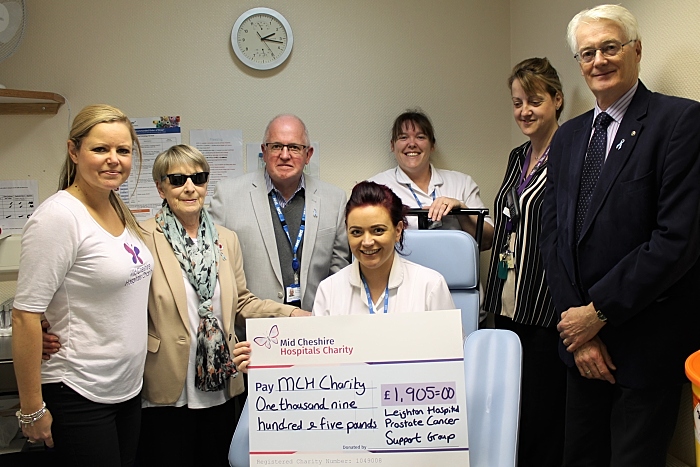 A prostate cancer group which offers support, awareness and prostate specific antigen (PSA) testing for Crewe and Nantwich men has raised almost £2,000 Mid Cheshire Hospitals Charity.
The money has been used to buy three specialised phlebotomy chairs, two for the Phlebotomy Service and one for the Imaging Department at Leighton Hospital.
The chairs offer increased comfort, are easier to move and are more adjustable than standard chairs and will therefore provide a better service for the people needing them.
Emma Robertson, MCH Charity Manager, said: "The support we continue to receive from the Leighton Hospital Prostate Cancer Support Group is fantastic.
"It makes a really positive difference to the care the hospital is able to provide to men undergoing diagnosis or treatment for prostate cancer.
"We'd like to say a huge thank you to everyone involved in the group for this donation and for their ongoing dedication and hard work."
Donna George, MCHFT Phlebotomy Services Manager, said: "This generous donation from the Leighton Hospital Prostate Cancer Support Group has enabled us to purchase two much needed phlebotomy chairs, one of which is now fully operational in our Macmillan service.
"We are so grateful for the support we receive from the group which ensures that we keep the comfort of our patients and the quality of the service at the forefront of what we do."
David Laudon, chairman of the Leighton Hospital Prostate Cancer Support Group, said: "My colleagues and I are more than pleased to once again support Leighton Hospital with the donation of equipment to further enhance the services that they provide.
"Many of our Support Group members will have passed through these departments on their path through treatment and know only too well the benefits of the good efficient service that they received."
(Pic: Emma Robertson; group member Wendy Laudon; David Laudon; Victoria Broster phlebotomist; Donna George Phlebotomy Services Manager; Claire Cree Office Services Manager Imaging; and Nigel Barrington-Smith, group member)