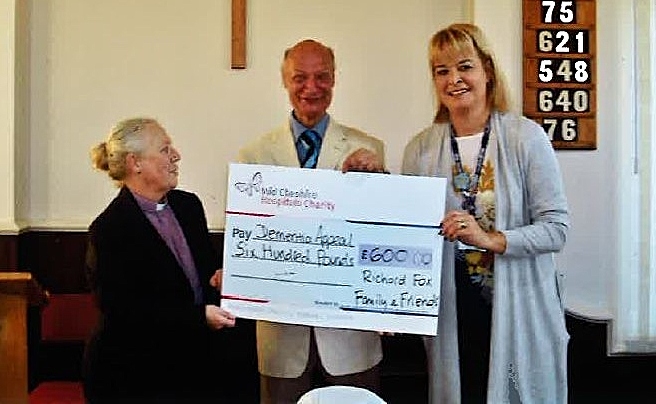 Big-hearted Nantwich methodist Richard Fox swapped his birthday gifts for donations – and raised £660 for the dementia appeal.
Richard, a member of Nantwich Broad Lane Methodist Chapel, decided to ask his friends and family to donate to the "Everybody Knows Somebody – dementia appeal" instead of buying him birthday presents.
His late father Reverend Frank Trevor Fox was a Methodist Minster on the Nantwich Circuit in the 1970s and was diagnosed with dementia in 1981.
Richard was keen to give something back to support local people living with dementia, by donating to Mid Cheshire Hospitals Charity dementia appeal.
A cheque presentation took place at the Broad Lane Methodist Chapel Sunday afternoon service.
Charlotte Lorimar, Circuit Minster who led the worship, focused the service around celebrating the fundraising.
Carole Salmon, MCHC Community Fundraiser, said: "I'd like to thank Richard for his generous gesture of forgoing birthday gifts and donating the funds raised to our appeal.
"The donation will support multiple projects across our hospitals that will improve the care and experience of people living with dementia."
Charlotte Lorimar added: "The Sunday service was a perfect way to celebrate Richard's fundraising and we were delighted that Carole was able to attend and share with the congregation details of how the donation will help the local community."
Anyone wishing to have their own birthday fundraiser as an alternative to having gifts for a birthday or any other celebration should contact Carole Salmon on 01270 273248 or [email protected]
(Pic: Left to right – Charlotte Lorimer, Richard Fox, Carole Salmon)