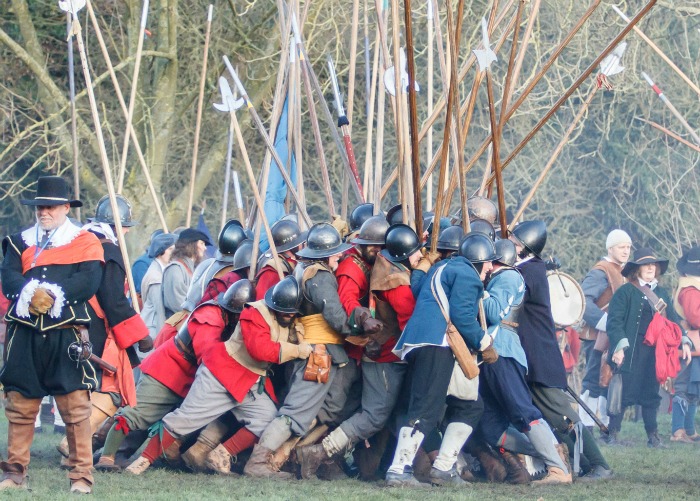 Nantwich is once again gearing up for one of its busiest days of the year when Holly Holy Day commemorations are held on January 26.
The town centre is likely to be packed as thousands cram in to watch The Sealed Knot re-enact the infamous 1644 Battle of Nantwich.
The Parliamentarians helped the town defeat the Royalists in a key battle during the English Civil War.
For 40 years, the town has held the re-enactment which has now become a day-long celebration.
This year, the re-enactment will once again take place on Mill Island from 2pm.
Before that Sealed Knot troops will leave Malbank School at 12.45pm, and parade down Welsh Row to the town square for a wreath-laying ceremony (1.15pm).
Beforehand, Nantwich Museum will be staging tours and demonstrations, and there will be activities, entertainment and refreshments in the Square from 10.15am onwards.
Organisers are still recruiting for volunteers on Battle Day, and are urging anyone who can help between 10am-1.30pm or 1-4pm to get in touch.
People are needed for marshalling the public, handing out programmes, taking money from spectators on Mill Island, selling tickets in the town square.
Anyone interested should contact 07886 633370.
The day before, on January 25, the 6th annual 'Holly Holy Day author event' takes place at Nantwich Methodist Church, Hospital Street, from 7pm, organised by the Nantwich Book Shop & Coffee Lounge.
This year the event features three authors: SJ MacLean, writer of the Damien Seeker novels; Mike Arnold, creator of the swashbuckling 'Civil War chronicles'; and Charles Singleton, Series Editor of 'Century of the Soldier 1618-1721'.
Tickets = £10 which includes a pie supper and £2.50 off a book.
Various displays and parades will culminate in a large battle on Mill Island, https://www.battleofnantwich.org/
Steve Lawson (pictured, below), Nantwich Book Shop & Coffee Lounge, said: "We are really excited to be returning to the Methodist Church for another iteration of the Holly Holy Day author interviews."
For further information relating to the Holly Holy Day author event please phone 01270 611665, or email [email protected]