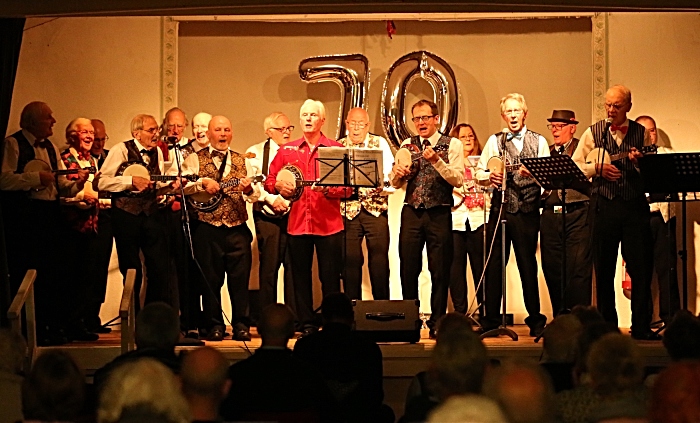 Villagers turned out in force to celebrate 70 years of the Wistaston Memorial Hall & Community Centre, writes Jonathan White.
The hall was built in memory of 16 Wistaston war heroes and has been the hub of activity in the village ever since.
South Cheshire George Formby Ukulele Society, Crewe Movie Makers and Wistaston Young Drama Group presented the event on the 70th anniversary date of the Hall, which was officially opened on Saturday March 26, 1949.
The event was 'A Night of Entertainment' celebrating the hall's 70 years among the community and included live music, drama and two short films about the Hall.
Michael Ravenscroft was the Master of Ceremonies.
Isobel Carrahar introduced two short films produced by members of Crewe Movie Makers.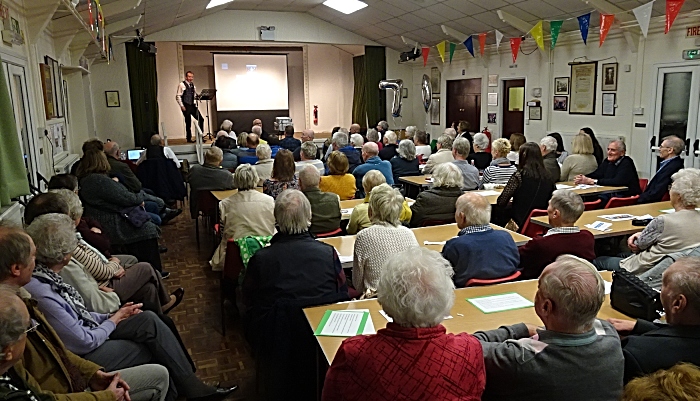 The first film was edited by Isobel herself in association with John White (Chairman, Wistaston Memorial Hall Committee).
Isobel used the 17 years of research by John, in relation to the 16 men from Wistaston who died in the Second World War, to produce a moving and fitting tribute to their bravery.
The plaque above the main entrance to the hall shows their names.
The second film – 'A Community Focal Point' – was edited by Frank Nicklin and showed, via videos and photographs, the range of groups and societies which have used the Hall throughout the year and in years past.
The programme also included an impressive performance by Wistaston Young Drama Group entitled 'All the world's a stage'.
Des Redfern sang and played his mandolin. Tony Brindley sang superbly under the title 'Croon a Tune'.
Arthur Newton encouraged audience participation as he played his accordion with a 'Sing-along'.
The evening of entertainment was completed by 17 members of the South Cheshire 'George Formby' Ukulele Society with a 'Finale'.
There were also refreshments during the interval and a prize raffle.
Diane Edge-Robinson, the hall's Vice Chairman, took to the stage at the end of the evening to thank everyone for supporting the 70 years celebration event.
More than 130 people were in attendance and the event raised more than £600, which will go towards the ongoing upkeep of the hall.
Further Wistaston 2019 events include:
Thursday 28th March (7:30pm) – Wistaston Memorial Hall & Community Centre AGM.
Saturday 15th June – Wistaston Village Fete – Wistaston Church Lane Academy, Church Lane, Wistaston.
Sunday 23rd June (7:30pm) – Concert by the South Cheshire Orchestra.
Saturday 7th September – Model Boat and Duck Race – Joey the Swan Recreation ground, Wistaston.
Thursday 10th October – Concert by Crewe Concert Band.
Tuesday 22nd October – Annual Hall Quiz.
Sunday 10th November (3pm) – Service of Remembrance.
(pics by Jonathan White)