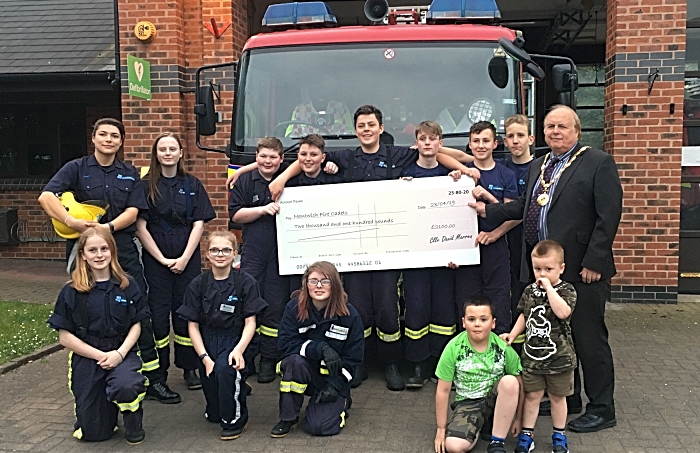 Nantwich Fire Cadets were put through their paces when they were visited by Nantwich Town Mayor David Marren and his family.
The Cadets are one of the local causes to benefit from the Mayor's fundraising work when Cllr Marren came to office in 2018.
And he popped along wife Belinda and their two grandsons, Anderson and Corbin Marren, to see how they are using the funds.
The 24 cadets are aged between 12 and 17 and are split into two units, with each unit meeting once a week on either a Tuesday or Wednesday evening, under the watchful eye of Cadet Leader Pete Shields, a veteran of the Cheshire Fire Authority.
The cadets showed how they would affect a rescue from height, and how they work from height to douse a fire.
Cadets learn how to use most of the Fire Service equipment, including the ladders and pumps in training and simulations.
Cllr Marren said: "I was pleased to receive the invitation to visit and chat to the cadets again and see how they were progressing because it was a brand new unit, only set up last year and that was one of the reasons I chose to support them.
"I've also a close personal connection with the Fire Service because my father was a fireman in Uttoxeter.
"I was brought up in a home owned by the Fire Service and so I really appreciate the difficulties and dangers of their role and the good they do in the local community."
Cllr Marren presented the cadets with a cheque for £2,100 from the fundraising carried out during his year in office.
The group is hoping to forge links with a fire unit in Poland.
Cadet Leader Pete Shields said: "This donation will be used to help our fire cadets learn about the young fire cadets in Poland, to experience how they learn from their firefighters, and see what equipment they use.
"We hope this money will help us to establish visiting links with our twin town of Dzierzoniow, and invite their cadets to Nantwich to see our town."
Any sporting or community club that would like to make a connection with their equivalent in Dzierzoniow or any under 16 who wishes to take advantage of pen friending opportunities should contact either the Town Council or the Crewe and Nantwich Twinning Association (CaNTA)