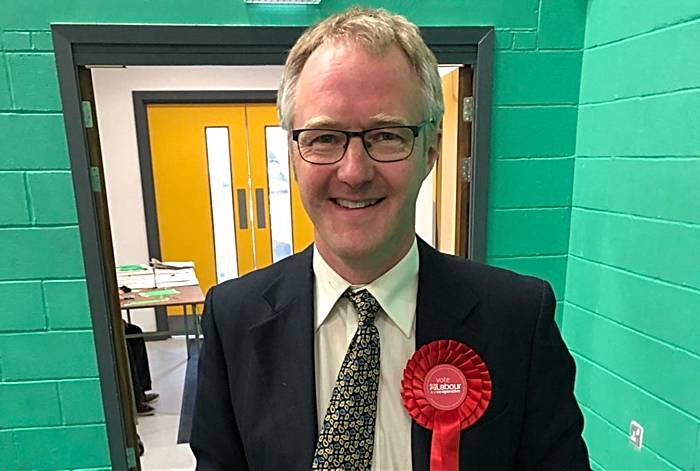 Cheshire East Council has its first ever Labour leader after Cllr Sam Corcoran fought off a Conservative challenge to claim the role, writes Stephen Topping.
The Labour and Co-Operative Party member for Sandbach Heath and East won 43 votes in the race to become council leader today (May 22) while Wybunbury Cllr Janet Clowes, Conservative, received 25.
It rounds off 20 dramatic days following the local elections, which saw the Conservatives lose 19 councillors and control of the council, before Labour struck a deal with the 16-strong Independent Group.
Cllr Corcoran will now lead an interim cabinet made up of Labour and independent councillors over the next 12 months, while CEC will work towards ditching its cabinet system altogether in May 2020.
The grade five cellist, who is also vice president of the North Staffs Symphony Orchestra, said: "In an orchestra there are different sections with different behaviours – the brass and the strings for example –in the same way we have different political groupings.
"Nobody would expect a trumpeter to say that a violin makes the nicest sound and nobody should expect a Conservative to say that Labour has the best policies – and yet the different sections work together to make music.
"A solo cello can sound good, but I prefer listening to the complexity and harmony of a symphony orchestra."
Cllr Corcoran was nominated for the role by Cllr Dorothy Flude, Labour member for Crewe South, who admitted she had "waited many years for this".
The Conservatives had hoped Cllr Flude would be kept waiting, as Cllr Clowes was nominated for the role of leader by her former cabinet colleague Cllr Liz Wardlaw.
But with the council in no overall control, Cllr Clowes could only win one more vote from a non-Conservative – Cllr Julie Smith, independent member for Handforth.
All four Liberal Democrat councillors voted to support the Labour-Independent Group cabinet, while the two Real Independent Group councillors abstained.
The new Cheshire East Council cabinet has no representative from Nantwich, as both Independents for Nantwich North and West Arthur Moran and Penny Butterill miss out:
Cllr Sam Corcoran, Labour – council leader
Cllr Craig Browne, independent – deputy leader
Cllr Amanda Stott, independent – finance
Cllr Laura Jeuda, Labour – health and adult social care
Cllr Dorothy Flude, Labour – children and families
Cllr Nick Mannion, Labour – environment and regeneration
Cllr Mick Warren, independent – communities
Cllr Jill Rhodes, Labour – public health and corporate
Cllr Brian Roberts, Labour – highways
Cllr Toni Fox, independent – planning
Cllr Quentin Abel, independent member for Knutsford, will also assist Cllr Mannion with his environment portfolio.
The council now has 34 Conservatives, 25 Labour members, 16 in the 'Independent Group', four Liberal Democrats, two councillors in the 'Real Independent Group' and one unaffiliated independent councillor.