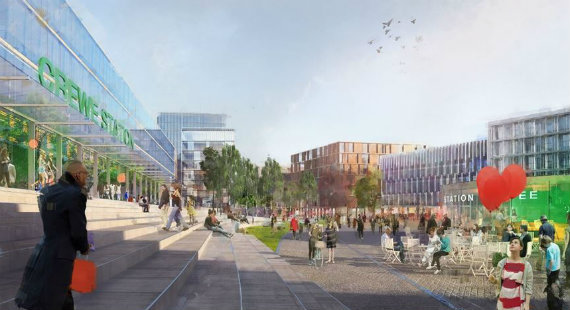 Cheshire East Council has agreed to press ahead with plans to have the Crewe Hub HS2 up and running by 2027, writes Stephen Topping.
Cabinet members have unanimously approved plans to prepare a planning application for the station, which is expected to be submitted in summer 2020.
It also agreed that a business case should be developed for the station to run up to seven trains an hour – rather than two as first proposed by Government – and for financial applications, compulsory purchase orders and land acquisitions to be made for the site.
Cllr Janet Clowes, leader of CEC's Conservative group, insisted the project is "absolutely vital" but warned the cabinet to keep on top of the finances involved.
She said: "This is an essential but inherently high-risk project and this council must remain vigilant in assessing changing external pressures that may influence that project."
But Labour Cllr Jill Rhodes, cabinet member for public health hand corporate services, insisted CEC must make its move on HS2 so that Crewe does not get left behind.
"I hope and trust that the Government will support the ambitions of this council in proceeding with this essential station if Cheshire East is to benefit from HS2," she said.
"I take on board Cllr Clowes' comments about fiscal management but in my opinion you have to invest, you have to speculate to accumulate, and if you are not prepared to put forward some measure of finance then you will not progress.
"I'm very aware that other areas like Leeds and Manchester already have business cases and we need to be at the forefront of this development."
Cllr Sam Corcoran, CEC's Labour leader, added: "Yes this project is inherently high-risk, and a lot of the risk is involved because of the uncertainty with the Government's intentions."
Last month, the Department for Transport confirmed an allocation of £9.5 million for Network Rail to develop alternative infrastructure at Crewe to serve five to seven HS2 trains per hour.
CEC's full council is expected to make a decision on investment into the project at a later stage.