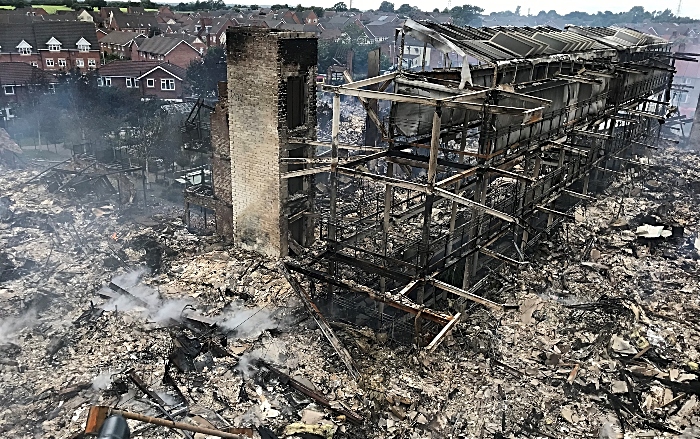 Council chiefs say their top priority following the Beechmere fire is finding the right accommodation for its former residents, writes Stephen Topping.
The retirement home complex, in Crewe, partially collapsed following a fire on August 8, leading to its 150 residents being evacuated.
Mark Palethorpe, CEC's acting executive director of people, told a scrutiny committee meeting today (September 12) that 34 households have now been found permanent accommodation.
Other former Beechmere residents are in temporary accommodation – with some at flats, others in care homes and a number staying with their relatives.
Mr Palethorpe said: "Beechmere was a very nice and specific extra care facility with all sorts of amenities there – a shop, a restaurant, a library and all sorts of communal areas – and it was very well used.
"Please be assured our priority is to find the right accommodation to meet the needs of those individuals."
Mr Palethorpe told CEC's health and adult social care and communities overview and scrutiny committee that 32% of Beechmere's residents had care needs – and their needs have since been reassessed.
CEC has since worked with Avantage and Your Housing, who ran Beechmere, along with care provider Radis to find permanent accommodation – with some residents offered new homes further afield.
Mr Palethorpe also pointed out the council would like to see Beechmere rebuilt 'sooner rather than later' – but it won't be a copy of the original.
He said: "We would absolutely support that and want to see that, but we would also work with the community and people that use the extra care facilities in the future.
"Ten years on, the type of accommodation we want now might reflect the needs differently, so it might not be a like-for-like because we want to see if we can get a better offer in there."
Councillors were also reassured business continuity plans for Beechmere worked "really, really well", and the Crewe community was praised for its reaction to the fire.
Mr Palethorpe added: "There was a real community spirit which was amazing to see in such dire circumstances for these people who had lost their homes.
"There was a lot of an emotional impact on people because they lost pretty much everything that they owned in the world."
An investigation into the fire from Cheshire Fire and Rescue Service is ongoing.
Meanwhile, the Mayor of Crewe Town Council has also praised the Crewe community for their compassion and generosity in their support for the Beechmere residents.
Crewe Town Council, Cheshire East Council and St Paul's Centre joined forces to help re-home 15 of the Beechmere residents for at least the next three months.
Essential homeware has been bought to help residents set up in their new home.
Volunteers flocked to offer support, as well as an overwhelming amount of clothing, food and other donations were made by members the Crewe community.
Mayor of Crewe Town Council, Cllr Benn Minshall, said: "The generosity, compassion and sense of community that I have witnessed has been heart-warming and makes me proud to call Crewe my home.
"To put things into some sort of perspective, the Lifestyle Centre has four full-sized badminton courts, and the only spaces amongst all of the donations were the pathways that had been carved out for people to move around as safely as possible."
All donations have now been relocated to the old Crewe Library on Prince Albert Street and St Peter's Church on Earle Street.
Crewe Town Council is accepting monetary donations which will go into a designated fund to support Beechmere residents.
Anybody wishing to make a donation can attend the office directly or contact Hannah Marr, Community Engagement Officer, at [email protected] or on 07947180150.