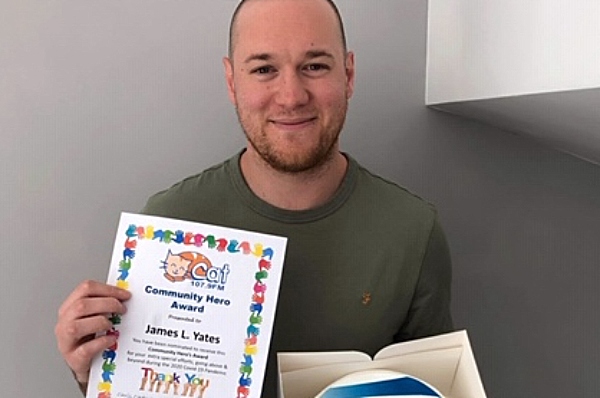 A man who risked his life to help a police officer under attack has won the first South Cheshire "Community Hero Award" launched by The Cat FM.
James Yates, from Sandbach, protected a female officer who was being attacked by a male suspected of being under the influence.
He risked his life and subjected himself to potential infection to successfully stop the attack.
The new award launched by The Cat is given to an individual who made extra special efforts, going above and beyond during the current Coronavirus (COVID-19) crisis.
Each winner will receive a certificate and a Cat 107.9 FM cake made by Gill Clark from 'Baked by Gill'.
If you know someone who deserves recognition, email their details to [email protected]
Chris Cadman, managing director of The Cat community radio, said: "The Community Hero Award recognises people who are going the extra mile to help the NHS and whose efforts help lift people's spirits.
"It is fantastic and heart-warming to recognise local people and their efforts and to say a big thank you."
The Cat broadcasts on 107.9 FM, online at http://thisisthecat.com/, on your mobile with the TuneIn app, or on your smart speaker by just asking for 'Cat one hundred and seven point nine'.