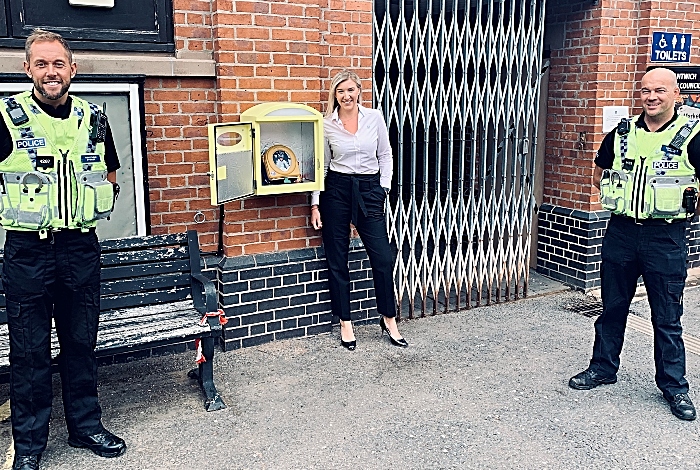 A life-saving defibrillator believed stolen from Nantwich town centre has been replaced thanks to a donation.
Several organisations came forward offering to help after we highlighted the apparent theft of the machine from its box outside the market hall in Nantwich.
It's unclear when the defibrillator was taken from its cabinet, which did not need a code for it be accessed.
But within hours of finding out about the theft, local housebuilder Redrow, who are building home son the Kingsbourne development nearby, offered to replace it.
Town Council Clerk Samantha Roberts said: "We were really disappointed that someone had stolen the original defibrillator, which had been there for four years without any problems.
"It's unclear when it was taken but it's extremely lucky that it hadn't been required in an emergency situation as someone's health could have been seriously affected.
"We're extremely grateful that Redrow quickly intervened to offer a replacement defibrillator.
"Without their help, replacing it would have been a significant extra cost to the council during the COVID-19 lockdown, although we have had offers of donations from the local community."
The replacement defibrillator was delivered by Sarah Weaver, North West marketing manager for Redrow Homes.
Sarah said: "We were shocked to discover that a potentially life-saving piece of equipment had been stolen from Nantwich town centre.
"Transferring a surplus defibrillator from our Kingsbourne site for the community to use in the event of an emergency was an obvious solution.
"While we hope it won't need to be used, it's reassuring to know that there will be a defibrillator available should anyone suffer a cardiac arrest."
The defibrillator will be reinstalled in a secure case in the next few days.
In the event of an emergency, the person calling 999 will be given an access code to unlock the case once they have confirmed they are dealing with a cardiac arrest.
If combined with effective CPR within a few minutes of the incident, the use of a defibrillator increases out of hospital survival rate from 5% to 75%.
Redrow has more than 100 defibrillators across its developments and regional offices in England and Wales, for use by staff, contractors and the local community.
(Pic: Redrow's Sarah Weaver pictured with PCs Matt Stonier & Marc Harley and the replacement defibrillator outside the Market Hall in Nantwich)