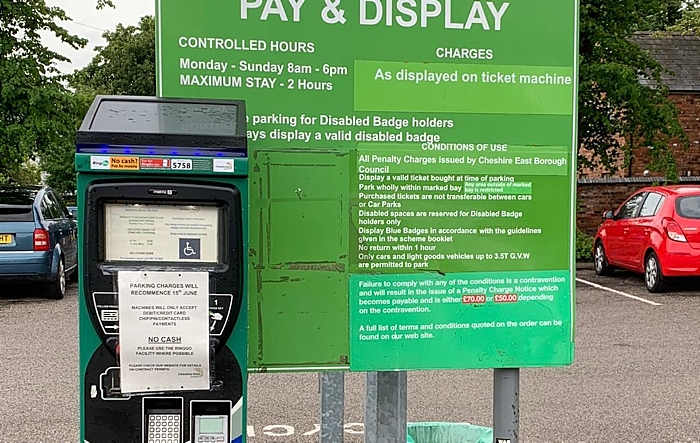 Two Nantwich organisations have stepped up pressure on Cheshire East Council to rethink bringing back car parking charges in the town.
Many retailers and residents are furious at the decision by CEC to reintroduce the charges on the day non-essential shops are allowed to reopen as lockdown restrictions ease.
Now it has emerged Nantwich Town Council and Nantwich Civic Society have both written to Cheshire East Council calling on them to make a "u-turn" on the decision – or to impose parking charges on ALL towns across the borough.
In a letter backed by all 12 town councillors, Nantwich Town Council highlighted the difficulties faced by local traders, the impact of social distancing traffic measures, and the payment method restrictions.
It said: "Whilst the Town Council recognises the financial demands on Cheshire East and the need to reintroduce revenue income streams, Nantwich Town Council agreed that consideration could have been given to the timing of reintroducing car parking charges the same week that traffic management measures have been introduced to ensure social distancing in the town.
"If Cheshire East could reconsider this decision, and whilst understandably there is a need to reintroduce the car park charges, if it could be delayed for a short period to allow for visitors to the town to adapt to the new traffic management measures it would have longer term benefits to the town and Cheshire East.
"In the meantime, if Cheshire East were to review its car parking policy and implement car park charges throughout Cheshire East, the added income from other towns where charges are not currently in place could help off-set the loss of income since March 2020."
Jeff Stubbs, chairman of Nantwich Civic Society, has written to Council Leader Sam Corcoran and Portfolio holder for highways Laura Crane.
He said: "Our members are dismayed that CEC has decided to re-impose Car Parking Charges on this very day when everything possible needs to be done to encourage shoppers back into the shops and town centre.
"It is a delicate time, when potential customers are deciding whether to go to town.
"We think that the re-imposition of parking charges does not give the necessary message – the "Welcome Back" – that encourages many wary people to return.
"We appreciate the loss of parking income to the council but, in such desperate economic times, the business activity in towns must be helped in any way possible.
"We would ask you to delay the car parking charges for a period of weeks – or months – to see how the footfall and business takings figures work out.
"It is not that much to ask – and it would be a positive action to help – not deter – the return of shoppers and workers – to town."
On Friday, Cheshire East defended its decision to bring back charges.
They say it is necessary for council funds as well as to ensure a quicker turnaround of shoppers using the car parks.
However, disparity remains with many areas including Sandbach – where CEC headquarters is based – enjoying free parking throughout the town.
(image courtesy of Jonathan White)