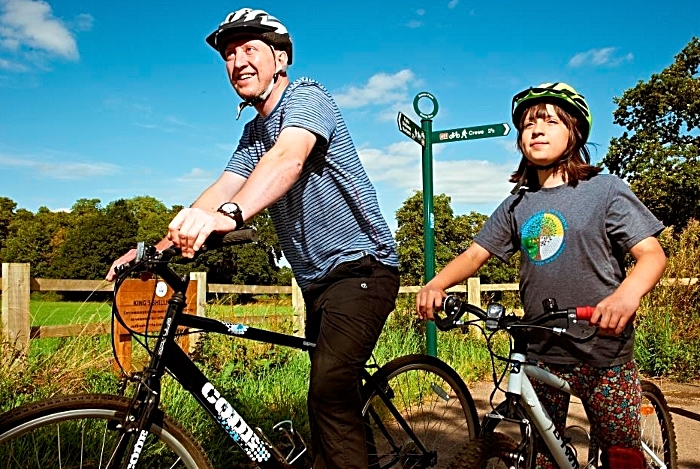 Many of us are struggling with cabin fever.
With the pandemic's key public health measure being social distancing, a lot of us have had to stay hunkered down at home with our families, having no idea when things will pick up again.
Cheshire East Council has launched an initiative to get people out of their homes.
CEC announced that towns like Nantwich will soon notice more pop-up cycle lanes, more walking routes, lower speed limits and wider pavements.
This initiative is not just part of COVID-19 recovery, but also an encouragement for people to choose healthier and more environmental ways to travel.
With most of our planned trips getting postponed or cancelled left and right, you can use this as an opportunity to bond with your family.
Wouldn't it be nice to roam or bike around the city with your little ones again?
Make it a family event
Few things get kids more excited than having special events to look forward to.
But if you're struggling to get them interested in walking or cycling, what you can do is turn it into a fun, family event — which it could be, after all.
But instead of just announcing what's going to happen, you can make them feel more involved by allowing them to help plan the itinerary.
Allow them to pick which restaurant you're going to get from afterwards, or which movie you're going to see when you return home.
Parents.com notes that it would also help if you provided a visual representation of how long you have before the actual event.
Aside from marking it on your family calendar, you can do a paper chain, or even something more elaborate like an advent calendar-style countdown.
It helps them visualise how much longer you have to wait until the big day, getting them more excited.
Bring the little ones along, too
Just like how you yearn to spend time outdoors when you're cooped up at home for far too long, children, including toddlers, need some time outside as well.
A study commissioned by the Cheshire Wildlife Trust revealed that exposure to nature increased children's health and wellbeing, resulting in educational, personal, and social benefits.
But before you consider bringing them along, you must first ensure that you can keep them safe, especially if you're going to be near roads or bikes.
The ideal way is to take the necessary safety precautions and to keep them safe in a sturdy pram.
If you have more than one toddler, it's best to invest in a pram that can handle both.
The double pushchairs on iCandy represent several benefits for parents when it comes to tandem prams.
These benefits include easier manoeuvrability when walking along narrow busy paths and when trying to get up curbs.
They are also easy to take on public transport as they take up less space.
Additionally, they make sure your child is facing you, so you'll have the opportunity to make eye contact and talk to them, which Words For Life explains stimulates their brain and provides instant reassurance.
Turn it into a game
Walking for prolonged periods can get a little dull and your little ones may get bored.
You can help them stay interested and engaged by turning the stroll into a fun game.
Very Well Family recommends playing simple yet thrilling games like I Spy, Follow the Leader, and Catch.
The best thing about these games is they don't require any preparation or equipment, and they are excellent vehicles for kick-starting conversations with your kids.
You may even want to take it up a notch by playing educational games to stimulate their minds.
For instance, you can play Poetry to Go, which entails starting off with a simple line and having your children add their own rhymes in return.
You can play Spelling Bee, too.
If you have lots of children, you can have them challenge each other to spell words based on what you can see on your walk.