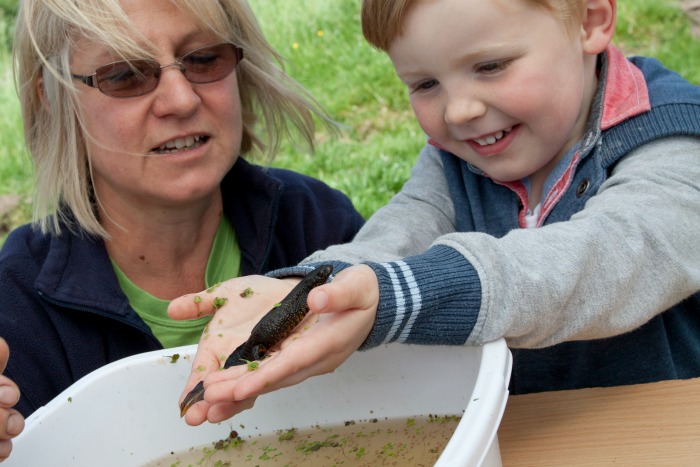 Cheshire Wildlife Trust is calling for every child to have a daily one-hour nature boost.
The conservation charity's call follows a report into the impact experiencing nature has on children.
The study, commissioned by The Wildlife Trusts and carried out by the Institute of Education at the University of Central Lancashire, reveals children's wellbeing increases after spending time connecting with nature.
According to the report, which focused more than 450 primary school pupils, exposure to nature increased children's health and wellbeing and resulted in educational, personal and social benefits.
It says 90% of children felt they learned something new about the natural world, and more than three quarters of the group surveyed felt that their experience could help their school work.
After their activities 84% felt they were capable of doing new things when they tried, 79% reported feeling more confident in themselves, 81% agreed they had better relationships with their teachers and 79% reported better relationships with their classmates.
Charlotte Harris, Chief Executive of Cheshire Wildlife Trust, said: "We've seen first-hand the beneficial impact that our educational work across Cheshire has on children and the value of spending time nature on their education, health and wellbeing.
"Whether it's our outdoor education workshops, or our Forest School and Nature Tots activities, the anecdotal evidence has always been very clear to us – this study provides the data to back that up.
"It's so important to give children access to a wilder Cheshire which is why we're calling on the Government to recognise the multiple benefits of nature for children and to ensure that every child gets to spend at least an hour per school day learning and playing in wild spaces."
Nigel Doar, The Wildlife Trusts' director of strategy added: "This research shows children experience profound and diverse benefits through regular contact with nature.
"Contact with the wild improves children's wellbeing, motivation and confidence.
"The data also highlights how children's experiences in and around the natural world led to better relationships with their teachers and class-mates."
The UCL research team studied children participating in outdoor activities with their local Wildlife Trust, ranging from a single activity, to a series of activities over the course of several weeks.
Professor Michael Reiss, Institute of Education, UCL, added: "Each generation seems to have less contact with the outdoors than the preceding one.
"We owe it to all young people to reverse this trend – for their sakes, for our sakes and for nature's sake."
Follow these links for the summary, Nature Nurtures Children and the final research report, Children and Nature.