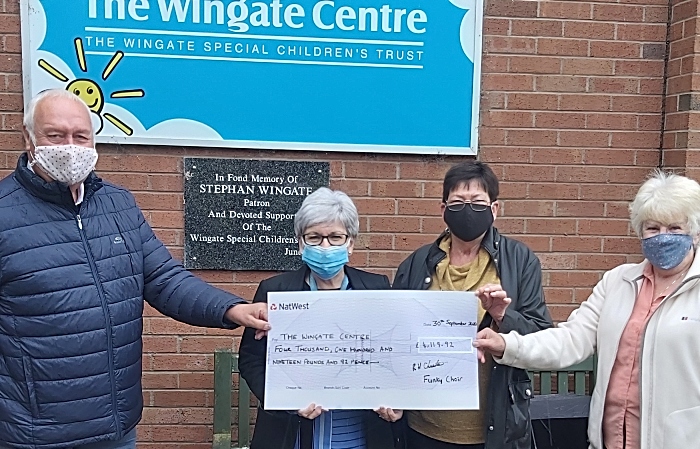 The Wingate Centre #Wingate2020 Campaign has been staging vital fundraising activities to help the Wrenbury charity through the pandemic.
And one the biggest supporters has been members of TheFunkyChoir.com who have held events including busking, coffee mornings, cycle challenges, selling plants, ironing, pet portraits and an ABBA singalong party.
Brent Robinson, founder of TheFunkyChoir.com, said: "I challenged the choir members to raise £20 in 20 weeks and have been very impressed with their creativity.
"We are so pleased to have raised £4,119.92 for the Wingate Centre and have lots of fun doing a variety of activities.
"It is great to support such a worthwhile local charity."
Matthew Roberts and his dad Gareth have been doing 20-mile cycle rides 20 times all over Cheshire.
Matthew finished his challenge by cycling his last cycle to the Wingate Centre where gym staff were waiting for him and presented him with a medal and certificate.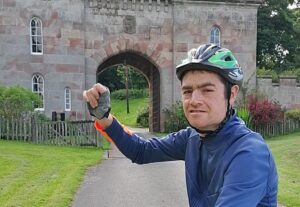 He raised £1,510 and his dad Gareth who accompanied him on the all the ride, said: "We have had a great time doing all these cycle rides and wonderful to be raising money for the Wingate Centre which means so much to Matthew who loves coming."
Rona Moroney, General Manager at Wingate Centre, said: "12 months ago we set ourselves a challenge to find local companies, organisations or individuals to each raise £2020 for the Centre during 2020.
"We had a great response with #Wingate2020 campaign being well supported by people in the local community.
"Thanks to people like this supporting us we are able to carry on the great work at the Centre."
Residents are being urged to join the #Wingate2020 challenge between November 29 and December 18 to help raise the last £6,000 towards their £20,000 target.
Supporters can carry out any activity connected to 20, such as a walk, jog, cycle, bounce on a trampoline 20 times, or bake 20 cakes and sell them at work.
For more details contact 01270 780456 or email [email protected]