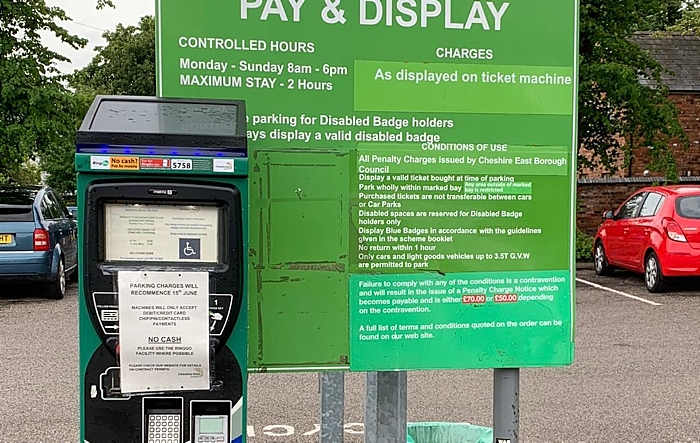 Cheshire East Conservative councillors withdrew plans to suspend parking charges in "council-owned car parks" for the borough's towns, writes Ethan Davies.
Conservative group leader Cllr Janet Clowes proposed a motion to introduce free parking after 3pm in the authority's council car park over Christmas in an effort to encourage residents to 'shop local'.
The move was a repeat of a proposal brought to CEC cabinet on December 1 — which was rejected by the Labour-Independent coalition.
But it was withdrawn during the final full council meeting of 2020 yesterday (December 16) as there was "insufficient time before Christmas for it to take effect".
Cllr Clowes said: "The refusal of cabinet to deliver the scheme is disappointing.
"I am surprised of the reasons given to the refusal.
"Free car parking is a useful and proven mechanism to support struggling our small and medium sized enterprises.
"This is an opportunity for the council to support its small and medium sized enterprises, on which it is economically reliant.
"With a week before Christmas, that opportunity is lost."
Labour defended its refusal, arguing that uncertainty around Covid-19 infection rates made it difficult to usher people back to town centres.
Labour's Cllr Laura Crane said: "I still do not believe it is the time to do so.
"[Cllr Corcoran] spoke with a number of businesses in Knutsford and they did not want to see free parking brought forward.
"I think it's definitely to discuss this as a policy when we have moved forward to be able to encourage people to move back into town centres en masse."
When it was suggested at Cabinet meeting, Independent deputy leader Cllr Craig Browne argued despite a large footfall decrease nationally, the borough's towns were all seeing better-than-average amounts of traffic.
CEC allows town and parish councils to allocate four days a year for their car parks to be free, which are usually near Christmas.