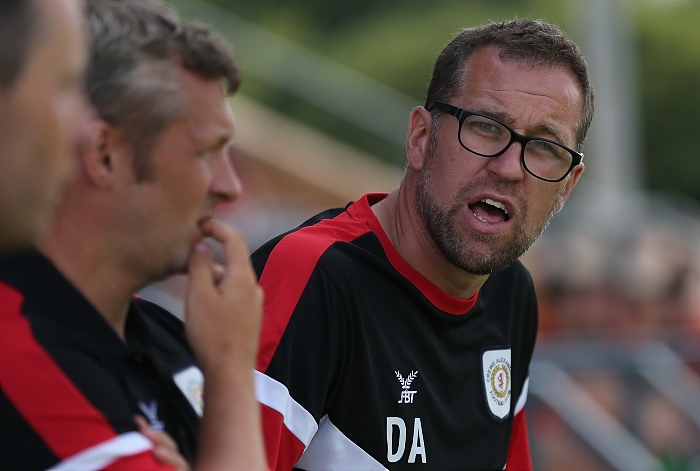 Being good is tough. Dedication plays a big role, as does access to the facilities and people you will need helping you to improve.
Independent of these, there are a lot of factors that you cannot control which have to work in your favour – be that something that offers you a clear advantage for your immediate actions or that works to the detriment of your opposition – for you to win, to capitalise on being good and become the best.
It's why there are only so many people in the prominent positions to be able to be the best, especially in sport.
Crewe Alexandra's ambitions this season will likely be far more reserved than being League One title challengers.
Pre-season offers moments for hope and realism.
They ran out 1-0 winners against Premier League opposition Wolverhampton Wanders during this year's pre-season thanks to a Chris Long tap-in, with The Alex having a number of opportunities to score too and did well to keep a clean sheet.
This victory came off the back of beating local rivals Nantwich town 4-1, Ashton United 5-1, and Witton Albion 6-0.
Wolves, then, were a markedly different opposition to contend with.
As pre-season has progressed, with draws against Nottingham Forest and narrow losses to Stoke City and Oldham, fans will be able to assess the team ahead of the season opener against newly promoted Cheltenham Town at the Mornflake Stadium on August 7.
The Robins will no doubt be among the favourites for relegation, joined by Cambridge, Wimbledon, and Accrington.
And, indeed, from a betting view, judging by the bookies available on OLBG.com, Crewe Alexandra could be down there too.
Fans of the Alex will not be deluded. They know the club is in for a tough season.
However, League One, just like League Two and the Championship, can provide surprises, to an extent.
Wage budgets aren't separated by much, not like the Premier League, where there is a clear division between the top six and the rest of the league, meaning variance can play a significant part.
This should not put Crewe's fans at ease, necessarily, but should show them that the worst can happen, and the best can happen.
League One
This season's league one is packed with former Premier League teams.
Among these names are clubs who have stemmed the plummet and are now trying to redirect themselves upwards as well as those who are now on that ascent – Sunderland, Charlton Athletic, Wigan Athletic, Ipswich Town, Portsmouth, and the newly promoted Bolton Wanders.
It makes for a league the neutrals may casually look at.
Beyond these clubs with a much more impressive history than present, there are Wycombe Wanders, Sheffield Wednesday (who managed to escape beginning the season with a points deduction), and Rotherham United joining them from the Championship, and Cheltenham Town, Cambridge United, and Morecambe all coming up from League Two.
Derby County's place in the Championship was under intense speculation from the final minutes of last season after Rotherham conceded a late equaliser to save the Rams because they breached the financial fair play rules.
However, the EFL have not given them a retrospective points deduction which would have relegated them.
Lincoln City's Play-off Final defeat to Blackpool is still likely to be sore for many Imps fans but they remain a threat further up the table.
Sunderland had a good season last time out, showing that they are on the ascent.
Both of these teams need to convert draws into wins.
Hull and Peterborough won automatic promotion having lost 11 games, and Sunderland bettered that record while Lincoln were only two games worse.
But Sunderland's 17 draws and Lincoln's 11 are what scuppered their automatic promotion pursuit.
Oxford were the league's free scorers but need to tighten up defensively to limit losses (16 during 2020/2021) and consolidate their play-off stake.
The teams Crewe will be trying to beat are the likes of Doncaster, Fleetwood, Burton, Accrington Stanley, Plymouth Argyle, and even MK Dons.
The Dons were at times hugely impressive through last season with their possession-heavy approach, but they were never able to turn the territory and final-third sequences into shots or good chances and were porous at the other end.
If they figure out their end-game issues and defensive liability, then they are likely to be out of this pack.
Crewe Alexandra
In their first season back in League One during the 2020/2021 season, Crewe had a solid campaign, finishing the term 20 points clear of the relegation zone with everything about their performance confirming and validating their midtable position.
Goals for, goals conceded, and goal difference all put them where they were: respectably safe.
This season presents a new challenge.
They have lost two ever-present players from last season – Ryan Wintle and Omar Beckles have moved onto Cardiff and Leyton Orient respectively.
However, Shaun MacDonald comes into the centre of the park with 33 years behind him, covering the Wintle loss, providing valuable knowhow.
And they have acquired Tommie Hoban to replace the outgoing Beckles, bringing in almost 8,500 minutes of experience in the Championship and Scottish Premiership.
Kanye Ramsay, Chris Long (scorer of the winner against Wolves), and Regan Griffiths round out the summer dealings so far.
There is a mix of age ranges: two pre-peak, two peak, and one post-peak.
Both pre-peak players – Ramsay and Griffiths – are loans, which makes it difficult to suggest the club are building sustainably.
However, at this level, player turnover is high, and having a settled 11, let alone a settled squad, is often a pipedream, only lasting one-to-two seasons.
The Alex do have essentially the same team as last year, and David Artell's consistency as manager no doubt will lend itself to producing long-term results.
Measuring Success
Success this year is safety-first. It is only Crewe's second season back in this flight.
Steadying the ship is integral before pushing on.
Surprises can happen and teams can punch above their weight, and those moments must be embraced.
But with clubs in League One – and League Two and the Championship – often treading a fragile financial line, it's best to be considered.