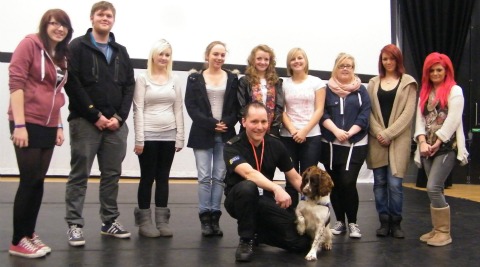 Staff and students at South Cheshire College were given a glimpse of life as a police dog at a special talk.
PC Jason Lennox and dog Will, of the Cheshire Police Dog Unit, gave students from the Humanities and Applied Social Science (HASS) faculty an insight into their work.
PC Lennox also talked about the types of dogs used by the police, the different roles dogs play and the specialist training they receive.
The visit was organised by HASS faculty coordinator Jacqui Young and more than 150 people, including college staff, attended the presentation.
It featured a brief look at dangerous dog breeds and focused on dogs which are used for bomb detection, one of Will's key roles.
PC Lennox, a member of Cheshire Police Dog Unit for 18 years, said: "It was great to be able to come into college to give the talk and the students were all terrific. They responded very well to the session."
 Jacqui Young said: "Visits like this are important for our students across a range of different courses and we are very grateful."