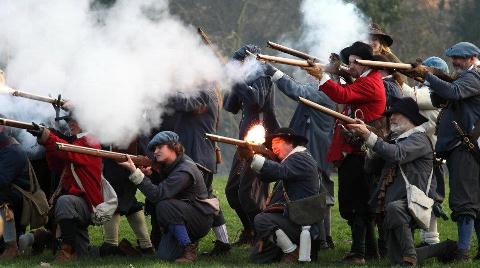 A Battle of Nantwich exhibition has opened in the Community Gallery at Nantwich Museum.
And the display will whet the appetite for this weekend's Holly Holy Day event – the re-enactment of the 1644 Battle of Nantwich.
The exhibition paints a picture of Nantwich during the time of the English Civil War.
It is illustrated with pictures of the key figures of the time and from the more recent enactments.
As well as mapping the course of the battle, the exhibition considers how some of the better known landmarks in the town featured in the Civil War and what life in the town was like in the 17th Century.
There is a chance to view an original account of the assault on Nantwich.
Events at the Pillory Street museum on Holly Holy Day this Saturday January 26 include a Battle of Nantwich war game led by members of Black Wolf Wargaming Club.
And between 10.30am and 11.30am there will be a  Musketry Demonstration led by The Sealed Knot.
Civil War Tours from the museum lasting about an hour will take place at 10.15am and 11.30am and cost £2 per person.
For details email [email protected], call 01270 627104, visit www.nantwichmuseum.org.uk
The Battle of Nantwich parade by Sealed Knot members will take place at 1pm from Welsh Row to the town square.
The battle re-enactment will begin at about 2pm on Mill Island.
Visit http://www.battleofnantwich.co.uk/ for more details.