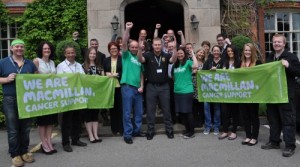 Forty staff from Reaseheath College in Nantwich have signed up for the Chester Dragon Boat Festival to raise funds for Macmillan Cancer Support.
Two teams of Reaseheath rowers will take on other dragon boat teams in the race on the River Dee at Chester.
Rowing the 40ft long boats, the teams will complete three timed races over a short course of around 250 metres, with their single fastest time used for qualification into the grand final.
Volunteers are now busy collecting for Macmillan Cancer Support at www.justgiving.com/reaseheath-dragon-boat
Reaseheath student services assistant manager Greg Otto organised the teams after being contacted by Carl Fisher, a Cheshire volunteer for the charity.
Greg said: "Every department has a staff member who is taking part, so it's a truly cross college effort.
"Our new gym has just opened, so hopefully our team members will be using the new facilities to prepare for the big day."
Sarah Page, Macmillan senior fundraising manager for Cheshire, said: "We love this event because it really puts the 'fun' into fundraising and we are delighted that Reaseheath has nominated us as their charity.
"Macmillan needs to raise over £1 million for cancer services across Cheshire each year.
"Our mission is to support local people and fund raising efforts from companies like Reaseheath is vital to our work."
College staff took part in the dragon boat festival five years ago, raising £550 for BIRD (Brain Injury and Rehabilitation Development).
There are boats still available in the Chester Dragon Boat Festival, which takes place on Sunday June 22.
Other companies who would like to get involved and support Macmillan Cancer Support can email [email protected] or call 0300 1000 200.
(Pic: Carl Fisher and Sarah Page from Macmillan Cancer Support join Greg Otto and some of Reaseheath's dragon boat rowers)