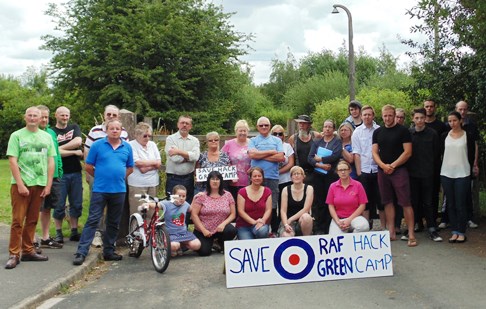 Nantwich councillors have agreed to oppose controversial plans to turn a nearby former RAF camp into a site for travellers.
The plans are to change the use of land at the old Hack Green camp off Coole Lane in Austerson, near Nantwich, to provide nine yards for 10 Showpeople families.
Many residents living nearby have objected to the plans, and a small delegation attended a Nantwich Town Council meeting last night (July 14) to voice their concerns.
They were also out in force in Nantwich town square at the weekend, gathering almost 700 signatures for a petition to stop the development.
An online petition currently has another 550 signatures.
Campaigners say they do not object to a site for travellers being built.
But they are calling for a more suitable brownfield location with better road links and less impact on environment.
Cllr Andrew Martin, Leader of Nantwich Town Council, said: "When I attended a public meeting the other week there was a lot of public concern about this application.
"As a town council we have to be concerned about how it will impact on Nantwich.
"This is quite a large area that could house quite a number of families and their showground equipment, which can be very very large indeed.
"This will see large, industrial size machinery coming through the town and along narrow roads and lanes, and we should be raising our concerns about this."
Cllr Arthur Moran agreed, and labelled the plan the "wrong development in the wrong place".
"It's more akin to building an industrial estate in open countryside," he added.
"There are a lot of issues here, and we need to support the residents and our neighbouring ward councillors.
"There are plenty of applications which are not actually in Nantwich but have a clear impact on Nantwich, and this is one of them."
Nantwich Mayor Cllr Christine Farrall said: "I am particularly concerned about the impact on the town in terms of services like doctors and schools.
"Ideally that area should be used as a nature reserve for residents to enjoy, it's a wonderful piece of land with a lot of flora and fauna."
Councillors agreed overwhelmingly that a letter of objection be sent to Cheshire East Council planners, citing a series of reasons for rejecting the proposal.
However, as Nantwichnews revealed a week ago (July 7), travellers already own the land and believe this is the best place for a permanent site.
In a statement, Janet Montgomery, of agents Brimble, Lea & Partners,  said: "I am confident this group will integrate well with the local community.
"They will comply with any conditions imposed by the local council to protect residential amenity.
"There will be no greater traffic movement than historically when the site was used as an RAF Camp.
"The application has addressed previous concerns raised and a lot of the site will be landscaped and used as buffer zones."
Residents have until July 23 to register their views with Cheshire East's planning department.