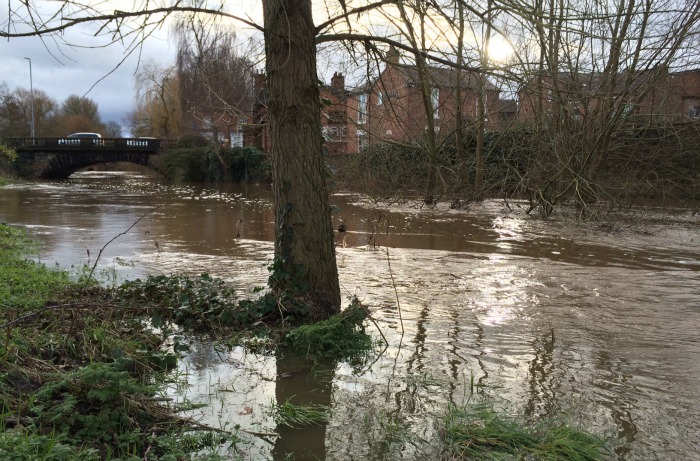 Residents are calling for the Battle of Nantwich re-enactment on Mill Island to be moved or cancelled because of saturated conditions.
Weeks of wet weather has left River Weaver levels very high (pictured), the ground at saturation point, and the island covered in early flowering daffodils.
Now some say the Holly Holy Day re-enactment will cause too much damage to the Mill Island site, including the potential destruction of thousands of flowers.
Organisers said last week they were hopeful the January 23 event would still go ahead, despite the adverse weather and river levels flooding pathways around the island (pictured, below).
But resident Jane Stafford said: "They will destroy Mill Island after all the rain we have had…no grass left; it will be left like a mud bath and take months to get back to normal.
"The river is also extremely high and dangerous."
Julie Burrows added: "Hope they don't have it on Mill Island this year. It's muddy enough and will destroy the daffs."
Lynda Mark added: "I wonder what measures will be in place to protect the daffodils that are on mill island?"
And Sarah Parker said: "They should cancel it with all the rain.
"I know if Nantwich Show can cancel when it was so wet, then Holly Holy Day can – but it all comes down to people losing money."
The issue of damage to Mill Island was also raised at Nantwich Town Council last week (January 11).
Cllr Arthur Moran said: "The daffodils have come up early on the island and some people have raised the concern and asked what is in place to minimise the damage to the flowers during the Battle of Nantwich."
Others in the town say the event is vital to bring visitors in and help local businesses.
Sharon Tew said: "The people participating in the battle don't get paid for this.
"The only people I see gaining from this are the local businesses, which is a boost for them in the month of January."
Shaun Cafferty, one of the Holly Holy Day organisers, said: "If the weather was bad enough we would need to restrict or prohibit spectator access to Mill Island, but there are other vantage points that people use to view the battle.
"Potential alternative locations are committed with sporting fixtures and in any case would make quite a mess of football and rugby pitches whilst the ground is so wet.
"Mill Island got a new drainage system a couple of years back and it's been worse than it is now at a similar date."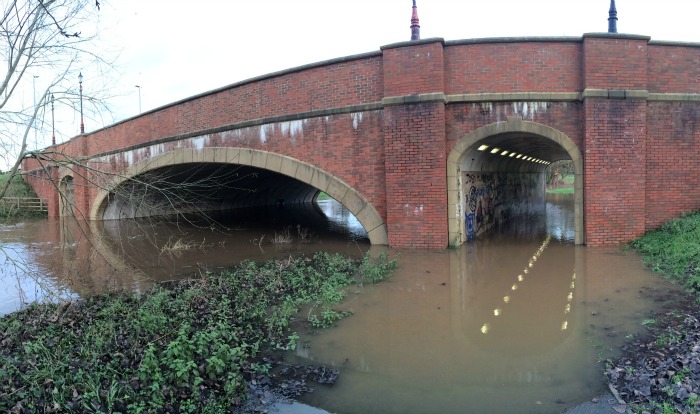 (Pics by Jonathan White)