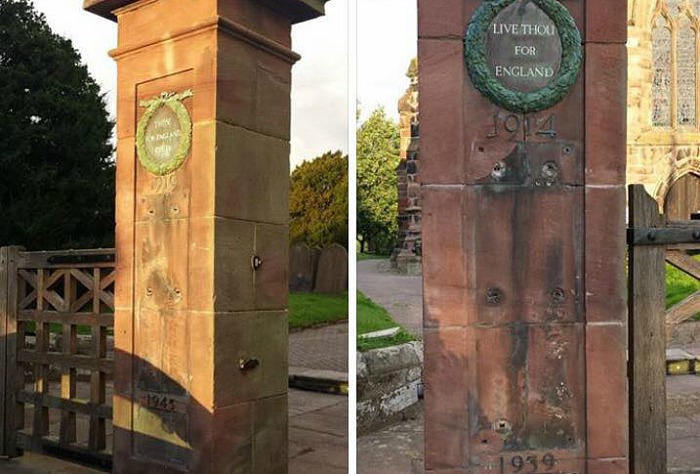 Angry villagers have appealed for help after heartless thieves stole historic war memorial plaques from a church in Bunbury near Nantwich.
Police say the brass plaques were prised off the gates outside St Boniface Church last weekend.
The thieves struck sometime between 5pm on Friday (September 15) and midday on Saturday September 16.
They prised off four brass memorial plates from outside the church which contained the details of those who lost their lives during the war.
Inspector Penny Jones said: "This is a despicable offence and I would appeal to anyone with any information in relation to the incident to contact us on 101.
"I would also appeal directly to the offenders and ask them to search their conscience and return the plaques.
"The war memorial represents those from the local area who have given their lives fighting in wars to protect us.
"Many local residents will have brothers, sisters, uncles, aunties, mothers, fathers or grandfathers who were killed in action in wars spanning decades and will be deeply saddened by this selfish and mindless act."
The theft has provoked strong reaction on social media.
One resident Dave Davies said: "As a Bunbury lad born and bred and ex serviceman, I am totally disgusted. I never thought such low life existed there or whichever hole they crawled out of."
Another added: "Oh my goodness what is wrong with these people.
"I feel for you all in the parish, having been the victim of vandalism at Darnhall our war memorial wasn't taken but destroyed, do these people have no respect?"
Police say the investigation into the theft is in its early stages and anyone with any information is asked to contact Cheshire Police on 101 quoting incident number 698 of 17 September.
Information can also be passed anonymously, via Crimestoppers, on 0800 555 111.
(Pic courtesy of Bunbury Journal Facebook Page)