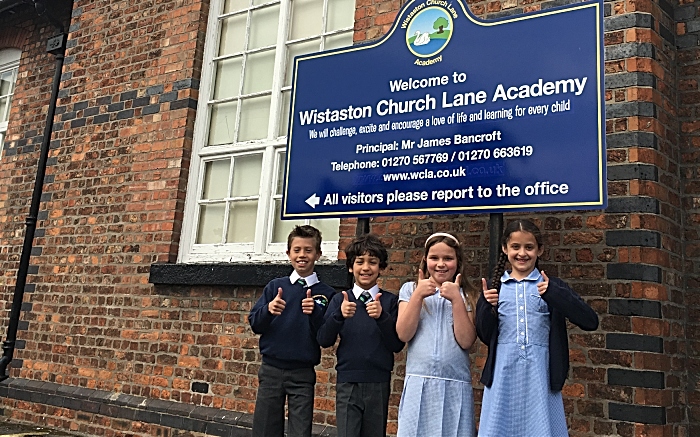 Staff and pupils at Wistaston Church Lane Academy and Shavington Primary School are celebrating after landing "healthy pupil" funding from Ministers.
Both schools are in line for Condition Improvement Funding, which is dished out by the Department for Education (DfE).
Wistaston Church Lane and Shavington are both part of The Learning for Life Partnership -a local multi academy trust of primary schools in Cheshire East.
The Trust submitted bids for capital funding as part of the DfE's annual bidding competition, with the focus on improving health and safety of pupils by addressing any part of the school buildings in poor condition.
The DfE made nine awards in Cheshire West and Chester and 11 awards in Cheshire East, of which the Learning for Life Partnership were awarded three, more than any other Cheshire East Multi Academy Trust.
Wistaston Church Lane was awarded nearly £140,000 for a partial replacement of the roof coverings on its KS2 Block which is part of the junior building and was built in 1874.
Principal James Bancroft said: "I'm delighted our bid has been successful so that we can complete the work without diverting precious funds away from things the children need in the classroom."
Shavington Primary School will benefit from two awards.
It will receive £130,000 for a new energy efficient heating system to improve the heating system and temperature throughout the oldest part of the school, the current system is more than 40 years old.
A second award of £125,000 was made to improve the school's ability to safeguard children through the installation of a new security fence and gates to secure sections of the outer perimeter boundary of the schools land.
Headteacher Rachael Nicholls said: "We are thrilled we have been successful with this bid.
"The fencing is something we have wanted to improve for some time and with our new building this will make the school safer and more secure for all the children, staff and visitors.
"We have made conscious choices about the nature of the fencing to ensure it is in keeping with the open feel of our school whilst fulfilling the legal requirements."
Dan Thomas, CEO of the Learning for Life Partnership, added: "This is fantastic news and really really helpful because the additional funding will allow the two schools to focus more of their current funding streams on teaching and learning, and not reactive site maintenance."