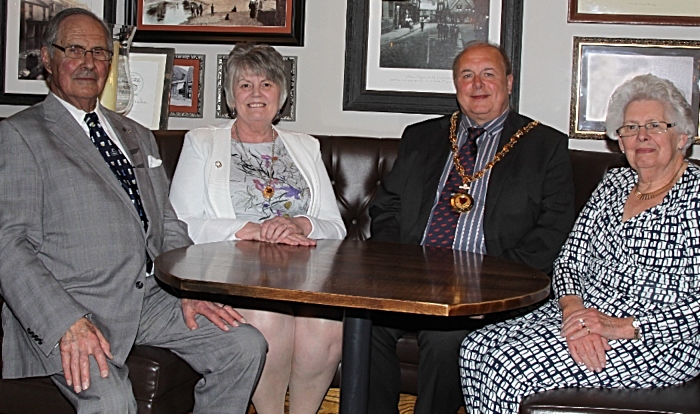 Nantwich Historical Society celebrated its 50th anniversary in style at The Crown Hotel, Nantwich.
Nantwich Town Council Mayor David Marren thanked the society for its contribution to the life of the town.
He acknowledged the work of the society and its founding chairman Herbert Rowsell in establishing Holly Holy Day as the event it is today.
And in also founding Nantwich Museum in 1980.
The contributions of long standing secretaries Brian Cowin (17 years) and Ruth Harding (29 years) were also highlighted.
Ruth recalled her recruitment to the Society in 1983.
Jean Kay, current treasurer and secretary, presented Herbert and wife Jane with gifts including a specially produced book compiled of selected items from 50 years of minutes of the Society.
Cllr Marren also discussed the significance of history and whether it helps in predicting the future or avoiding the repetition of mistakes.
He said: "I am certain the teaching of history helps explain the present and to trace its course – that there is a cause-and-effect relationship in that the past causes the present and so the future.
"I am only here today because of what has gone before and if there had been a different turn of events I wouldn't be. I think of it as the Sliding Doors principle."
Herbert highlighted significant contributions in the past 50 years of Percy Walker, Alan Chapman, Percy Corry and Andrew Gillett.
The Society's 2019/20 season commences on October 2 with a talk on Joseph Priestley, to be followed by talks on Cynthia Zur-Nedden, the railway at Nantwich, Non-conformity in the town and local taverns and temperance.
For further information contact Jean Kay, 01270 624653.