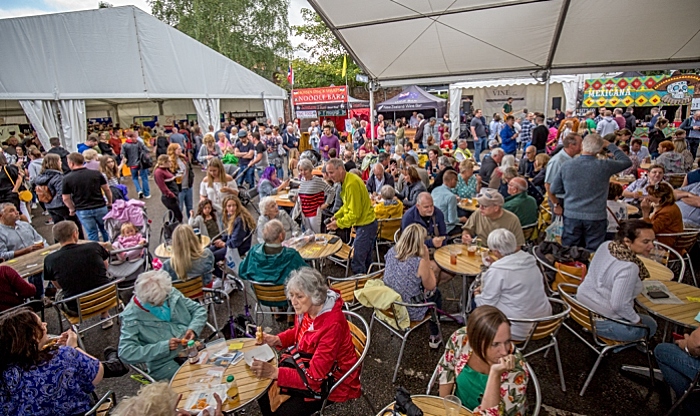 A decision on how this year's Nantwich Food Festival will be run is likely to be made by Easter, said councillors and organisers.
The popular three-day festival brings tens of thousands of visitors to the town in early September.
But it had to be cancelled last year due to the pandemic.
Now this year's event may have to be scaled back, depending on whether Covid restrictions are likely to still be in place by the time it is held.
The festival is reliant on a grant from Nantwich Town Council as well as sponsorship and other funding.
The council said it has budgeted for a maximum £15,000 grant for this year's festival, but has said it will need to review its budget every month due to the impact the pandemic is having on its finances.
Cllr John Statham told councillors: "The festival committee does not know how to take plans forward without the funding being guaranteed.
"But we can't commit to anything further down the line because we are not sure what our position we will be.
"It's something we need to be aware of."
Cllr Stuart Bostock added: "So far 80% of exhibitors have put deposits down and the chefs have been paid for, for the 2021 festival.
"The committee wonders whether the event should be down-sized or if they should plan for 30-40,000 visitors? What will be available in September?
"They have been paid £10,000 by various exhibitors but of course will they come back for a discount or money back if event has to be scaled back?
"They are hoping for an indication by Easter how they will fair with our grant and whether they will or will not go ahead."
Sam Roberts, town council clerk, added: "I would hope we are in a position to support all our community events to help bring the town out of this Covid situation. We will manage our budget month by month."
Nanna Pedley, Director & Business Liaison Manager for the festival, said: "As far as we are aware, the Town Council's annual grant for the food festival is included in their budget for this year.
"The festival committee is currently in the planning stages for this year's event and yes, we will have made a decision by
Easter on what format it will take.
"Obviously, this will all depend on government guidelines at the time as well as any developments between now and September."