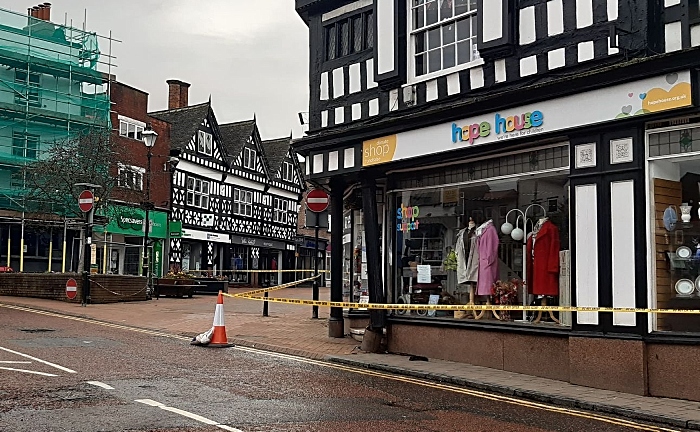 A town centre road in Nantwich is closed today after a vehicle crashed into a shop before driving off, leaving the building unsafe.
These images show the accident happened on the corner of Swine Market and High Street.
It's thought a vehicle left the road and crashed into the front entrance of the Hope House Hospice shop at around 6.30am.
The impact has dislodged one of the supporting columns at the front of the premises.
Police have cordoned off the area around the building, and Swine Market is closed to traffic.
A Cheshire Police spokesperson said: "Police were called to a collision involving a car and a building in Swine Market, Nantwich.
"The vehicle left the scene prior to arrival and enquiries are ongoing to locate the car and the driver.
"The impact has damaged the building and the area affected has been cordoned off for the safety of the public while the local authority engineers assess the structure.
"Anyone who witnessed the collision should call Cheshire Police on 101 quoting IML 935777."
One resident who saw the damage this morning said: "It looks like something has come around the corner and hit it!
"Swine Market is closed to traffic and a police diversion is in place."
The Hope House hospice shop at 14 High Street sells books, Bric-a-brac, children's clothes and accessories, as well as furniture, homewares and music.
Andy Goldsmith, Chief Executive of Hope House Children's Hospices which lease the shop premises, said he had been notified about the incident by the police at 7am today.
"We were told that the Police and Fire Service had cordoned off the pavement and closed the road and made the scene safe.
"Our Head of Estates is currently at the shop meeting with a structural engineer to assess the damage to the pillar and decide what action needs to be taken.
"The shop is currently closed due to the lockdown restrictions in England so no staff or volunteers were at the premises."
We have contacted Cheshire Police and Cheshire Highways and are awaiting an update.
(Images courtesy of Nantwich News reader)