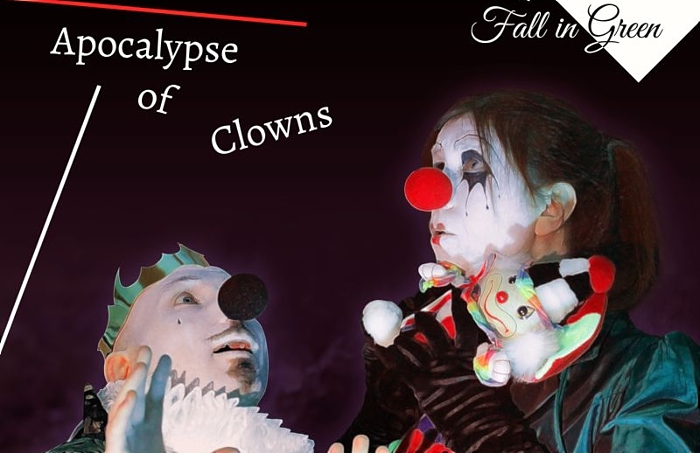 South Cheshire based act "Fall in Green" have released their second experimental poetry album, Apocalypse of Clowns.
It was launched on World Poetry Day this week (March 23).
Fall in Green features Mark Sheeky on piano/instrumentation, and Deborah Edgeley on vocals.
Their latest album breaks away from simple piano and poetry into progressive multi-instrumentation for this "ground-breaking explosion of sawdust and glitter".
Meet the Tattooed Man in 'Skin', the Bearded Lady in 'Fairytale', and the joyous and energy filled 'Siamese Twin Domestic'.
'Dead Hand' is Fall in Green's own dark take on Wuthering Heights. And the album is rounded off by a 9-minute adaptation of the classic Lewis Carroll poem, 'Jabberwocky'.
Mark and Deborah, from Crewe, formed Fall in Green in 2017.
They have performed at libraries and festivals across Cheshire.
Their first album, "Testing the Delicates", explores the stigma surrounding mental health.
Their EP "War is Over" was created to commemorate the end of WW1, and was performed at Congleton and Knutsford libraries.
Fall in Green's singles include Who is Afraid/She Floats, a tribute to Virginia Woolf, Time, Falling, a beautifully haunting piano based piece about autumn, and Jabberwocky.
Videos for all three singles can be seen on YouTube.
https://distrokid.com/hyperfollow/fallingreen/apocalypse-of-clowns
Facebook: https://www.facebook.com/fallingreenband
Twitter: https://twitter.com/fallingreen
YouTube: https://www.youtube.com/channel/UCK5QJ7eAiWngvPrXy1wfp3A
Spotify: https://open.spotify.com/artist/5dIyAkSvuJ2bzVvVaU24py