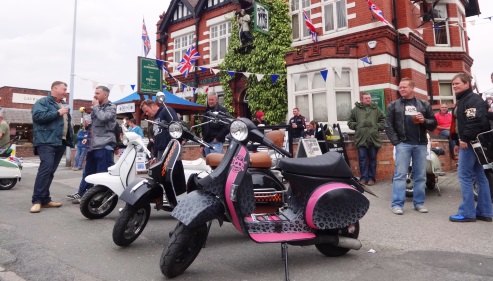 By Jonathan White
Hundreds of scooter owners from across Britain cruised into Nantwich for a get-together organised by the Dabbers Scooter Club.
The "Smell The 2 Stroke" event took place at the town's The Railway Hotel on the corner of Pillory Street and Station Road.
The pub was open throughout the event yesterday (September 1) and there were food outlets and stalls selling a range of scooter-related merchandise, clothing and spare parts.
There was also live music to entertain scooter owners who had travelled from all over England and north Wales.
Scooter makes on show included Vespa, Piaggio and Lambretta.
There was even a fur covered scooter!
Dabbers Scooter Club meets at The Railway Hotel on the first Tuesday of every month at 7.30pm.
For more details visit http://www.dabbersscooterclub.webs.com/
(words and pictures by Jonathan White)