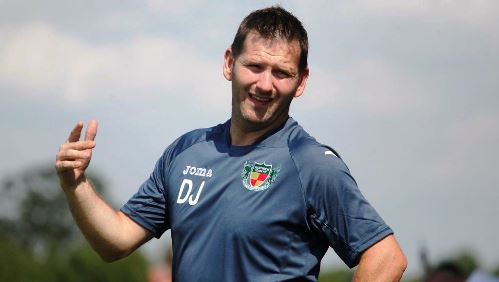 Sacked Nantwich Town manager Danny Johnson believes he was in the wrong club at the wrong time.
Johnson departed the Weaver Stadium outfit last night after two years in charge.
And today he reflected on the decision which left him "bitterly disappointed", saying he found it difficult to call the club home.
Johnson said: "Nantwich Town wasn't the right club for me, wrong club, wrong time for a whole host of reasons.
"I have found it really difficult to call the club home.
"I don't know why, maybe the commute from Manchester three times per week, perhaps I was spoilt at my previous clubs Trafford and Ashton United.
"It has proved really difficult to attract the right quality of players within the budget.
"That is no slant on the board, none whatsoever, it's just the local catchment area for players means you have to look further field and that comes at a premium, an extra cost to try and attract players to travel from Manchester or Liverpool.
"Having said all that, it is a magnificent football club with a super little fan base."
Johnson also revealed how the board told him to make cuts to the playing budget last month.
"It was never made public knowledge that following two great wins against Ramsbottom United and Marine FC, I was asked to reduce the playing budget by a very substantial amount.
"This led to the easy departures of Andy Pearson, Adam Jones and Aaron Burns who had all been an integral part in our turn around in fortunes plus a number of other players took a wage reduction.
"I was never going to be able to replace the quality of these players like for like.
"And because of the reduction I wasn't even looking which just added to the pressure and inconsistency of our recent results and performances."
Johnson paid tribute to the club's youth and junior set up, including community director Steve Smithies.
"Steve works tirelessly trying to develop community cohesion and between us we were trying to create a sustainable link from youth team to first team," he added.
"But unfortunately that takes longer than I was given.
"There is an enormous job to do for the next manager as there is a great need to develop home grown talent through the youth set up but the current youth team could soon provide a few players if developed the right way.
"I have also left behind an excellent group of players who I am sure will turn things around should they stay together.
"The board and supporters all know the present squad is good enough and better than the current position in the table.
"We had no luck whatsoever with player absence but that's part and parcel of football management.
"The lads who came in didn't perform well enough to earn us enough points or compete in the league. It's about results and we all move on."
And he also praised the supporters at Nantwich Town.
"The supporters have been different class and I will never forget the support, dedication and faith you have shown in me throughout my time at the club.
"Unfortunately, I wasn't able to provide them with any real success or create any real memorable moments.
"But I know the majority will appreciate my efforts for their football club and acknowledge that so much has gone against us this season."
Nantwich Town are set to announce a replacement in the coming days.